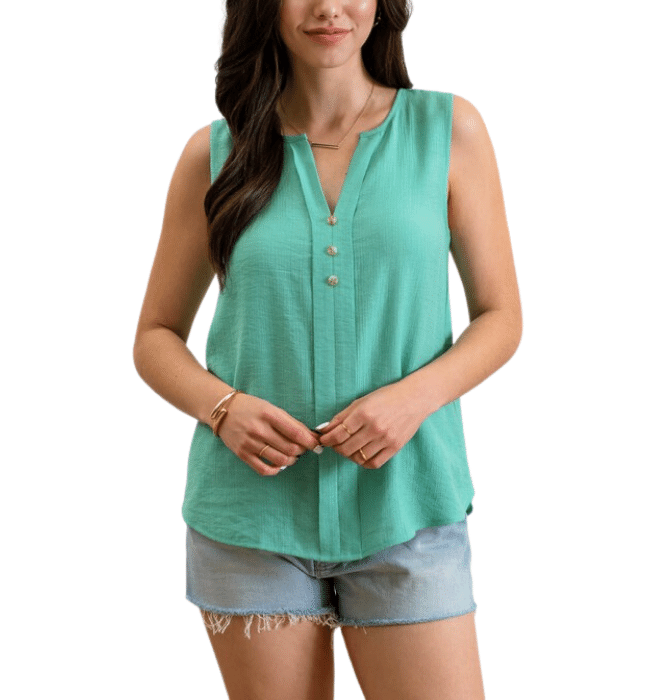 Cabo Notched Sleeveless Top
Cabo Notched Sleeveless Top, a versatile and stylish addition to your wardrobe. This top combines classic design elements with a textured fabric to create a modern and sophisticated look.

Featuring a notched V-neckline, this top offers a flattering and timeless silhouette. The notched detail adds a subtle touch of elegance and visual interest, making it a standout piece for any occasion. The V-neck shape also elongates the neckline and creates a slimming effect.

The sleeveless design allows for freedom of movement and keeps you cool during warmer days. It also adds a sleek and minimalist touch to the top, making it a versatile piece that can be easily layered or worn on its own.

The front of the top showcases non-functional buttons, adding a charming and decorative element. These buttons enhance the classic aesthetic and create a focal point on the front of the top. While they are non-functional, they still contribute to the overall style and charm of the piece.

Crafted from a textured fabric, this top offers a unique and eye-catching look. The texture adds depth and dimension to the garment, creating visual interest and making it stand out from ordinary tops. The fabric is made from a blend of 80% rayon and 20% nylon, providing a comfortable and breathable fit.

The Cabo Notched Sleeveless Top is a versatile piece that can be dressed up or down to suit various occasions. Pair it with tailored trousers or a skirt for a polished office look, or wear it with jeans and sandals for a casual weekend outfit. Effortlessly transition from day to night with this stylish and sophisticated top.

Update your wardrobe with the Cabo Notched Sleeveless Top and embrace the classic yet contemporary style it brings. With its flattering silhouette, textured fabric, and charming details, this top is sure to become a staple in your collection.