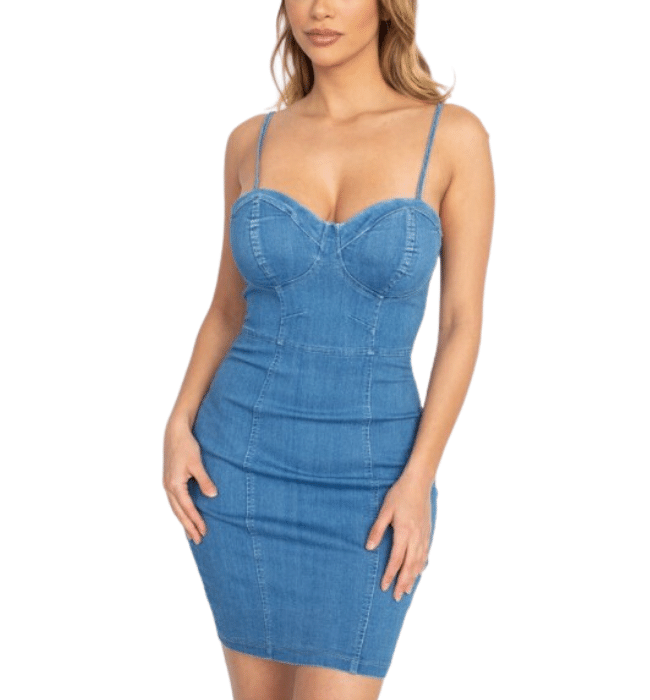 Doreen Denim Mini Dress
Doreen Denim Mini Dress, a chic and flirty addition to your wardrobe. This woven denim dress features a sweetheart neckline and a bodycon silhouette, creating a stylish and feminine look.

The Doreen Mini Dress is designed with padded cups and underwire, providing support and enhancing your natural curves. The sweetheart neckline adds a touch of romance and allure, making it a perfect choice for a night out or special occasion.

The dress features adjustable cami straps, allowing you to customize the fit to your preference. The straps offer versatility and ensure a comfortable and secure fit, accommodating different body types and preferences.

With an exposed back zip-up closure, the Doreen Mini Dress is easy to put on and take off. The zip-up closure adds a modern and edgy touch to the dress, while also providing convenience.

Pintuck seams are incorporated into the design of the dress, creating a flattering and tailored look. These seams contour the body and accentuate your curves, enhancing the overall silhouette of the dress.

Crafted from a blend of 45% cotton, 30% rayon, 23% polyester, and 2% spandex, the Doreen Mini Dress offers a comfortable and stretchy fit. The fabric blend provides durability and breathability, allowing you to move with ease.

Whether you're attending a party, going on a date, or enjoying a night out with friends, the Doreen Denim Mini Dress is a versatile and stylish choice. Pair it with heels and statement jewelry for a dressed-up look, or dress it down with sneakers and a denim jacket for a more casual vibe.