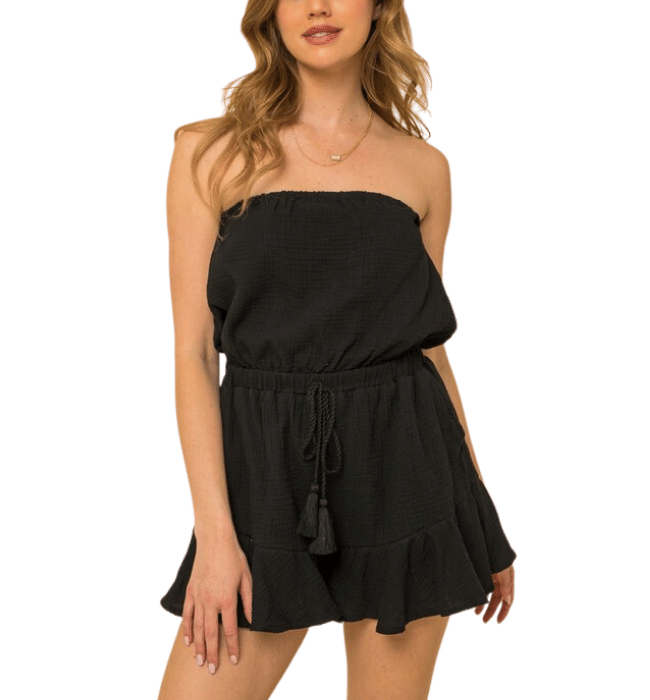 Raven Strapless Romper
Raven Strapless Romper, a stylish and versatile piece that combines comfort and fashion effortlessly. Made from 100% cotton, this romper offers a lightweight and breathable feel, keeping you cool and comfortable all day long.

The Raven Romper features a solid black color, providing a timeless and versatile option that can be dressed up or down. The textured material adds a touch of visual interest, elevating the overall look of the romper.

Designed with a strapless neckline, this romper exudes a chic and feminine vibe. It allows you to showcase your shoulders and create a flattering silhouette. The elasticized waistband with a decorative tassel drawstring adds a bohemian touch and provides a customizable fit.

Equipped with pockets, the Raven Romper offers convenient storage for your small essentials, such as keys or lip balm. The pockets add a practical element to the romper without compromising its sleek and streamlined appearance.

The ruffled bottom of the romper adds a playful and flirty detail, creating movement and adding a feminine touch. The ruffles bring a sense of whimsy and charm to the overall design, making this romper perfect for various occasions.

Whether you're heading to a beach party, a casual gathering with friends, or simply running errands, the Raven Strapless Romper is a go-to choice for effortless style. Pair it with sandals or wedges, add some statement accessories, and you're ready to make a fashionable statement.

Upgrade your summer wardrobe with the Raven Strapless Romper and enjoy the comfort and style it brings. With its 100% cotton construction, pockets, decorative tassel drawstring, ruffled bottom, and solid black color, this romper is a must-have for fashion-forward women who value both style and comfort.