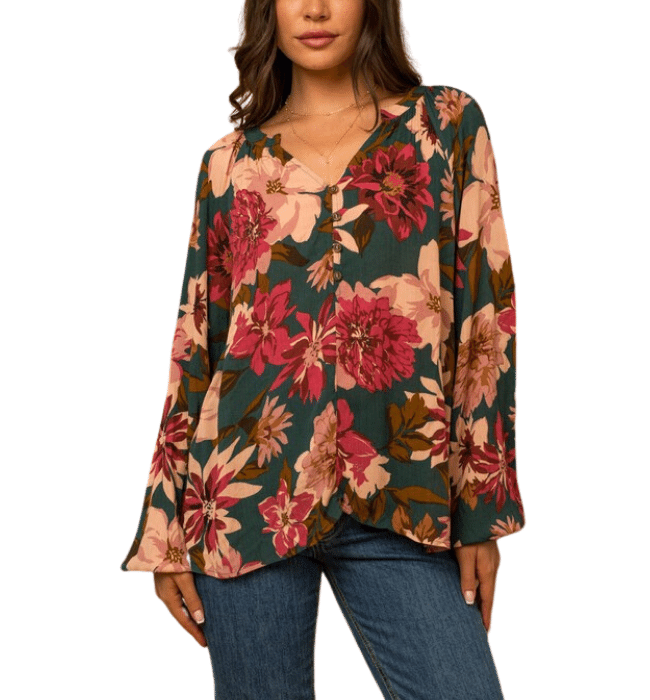 Darla Floral Print Blouse
Darla Floral Print Blouse, a charming and fashionable addition to your wardrobe that effortlessly combines style with comfort. This blouse features a stunning large floral print set against a vibrant emerald green background, creating an eye-catching and elegant look that's perfect for various occasions.

Material: Crafted from 100% Rayon, the Darla Floral Print Blouse offers a luxurious and soft fabric that drapes beautifully, ensuring both comfort and breathability throughout the day.

Features: This blouse boasts several features that make it a standout piece in your collection. The loose-fitting design offers a relaxed and effortless style, allowing you to move with ease. The v-neck adds a touch of sophistication to your outfit while providing a flattering neckline. The bell sleeves provide a whimsical and on-trend element, adding to the overall charm of the blouse.

Large Floral Print: The prominent large floral print design is both captivating and chic, making a bold statement and setting you apart from the crowd.

Versatile Style: Whether you're heading to a brunch with friends, a casual day at the office, or a special event, the Darla Floral Print Blouse is your versatile go-to option. Pair it with your favorite jeans or trousers for a chic, everyday look, or dress it up with a skirt or slacks for a more polished ensemble.

Elevate your style with this exquisite Floral Print Blouse that combines fashion and comfort seamlessly. Don't miss out on the opportunity to make a statement – order your Darla Floral Print Blouse today and experience the perfect blend of elegance and ease.