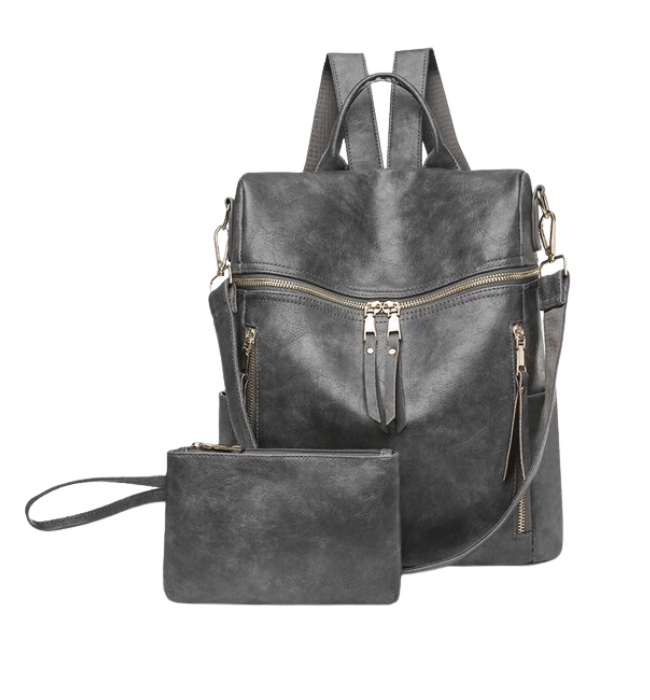 Liza Charcoal Backpack
Introducing the Liza Vegan Leather Backpack Bag 2pc Set - the epitome of style and practicality, where Function and Fashion unite to create the perfect duo! This set offers not just one, but two fabulous pieces to elevate your accessory game and streamline your daily adventures.
Crafted with meticulous attention to detail, the Liza Backpack is a true testament to the beauty of Vegan Leather. Ethically sourced and environmentally friendly, this material showcases the finest quality, replicating the look and feel of genuine leather without any harm to animals. The sleek and supple texture exudes a sense of luxury, making a fashion statement wherever you go.
Step inside, and you'll discover a thoughtfully Lined Interior, exuding sophistication while safeguarding your essentials from scratches. Stay organized with dedicated compartments tailored to your needs, ensuring everything has its place.
The outside Bottle Pockets are a lifesaver, providing convenient storage for your water bottle, allowing you to stay hydrated throughout the day without compromising style. The Front Accent Zipper Pockets not only add a touch of contemporary flair but also offer quick access to your must-have items like keys, phone, or lip balm.
Unveil the heart of the Liza Backpack with its spacious Main Zipper Compartment, secured with a Double Zipper Closure for added peace of mind. Here, you can effortlessly carry everything you need - from your tablet and wallet to a makeup pouch and even a small notebook. Embrace the freedom of having your essentials within reach, ready for any adventure that comes your way.
But the Liza 2pc Set doesn't stop there - it comes with a delightful Bonus Wristlet, measuring 7.5" x 4.7". This chic accessory is perfect for those moments when you want to travel light, carrying just the essentials without the bulk. Slip in your cards, cash, and keys and enjoy the convenience it offers.
With the backpack dimensions of 11.8" x 5.5" x 12.6", this set strikes the perfect balance between spaciousness and portability. Wear it comfortably on your back and stay hands-free, allowing you to tackle your day with ease.
Elevate your style and embrace the perfect blend of Function and Fashion with the Liza Vegan Leather Backpack Bag 2pc Set. This versatile duo ensures you are always equipped for life's adventures while making a bold statement in the fashion world. Upgrade your accessory collection and experience the charm of practical luxury - get your Liza set now!