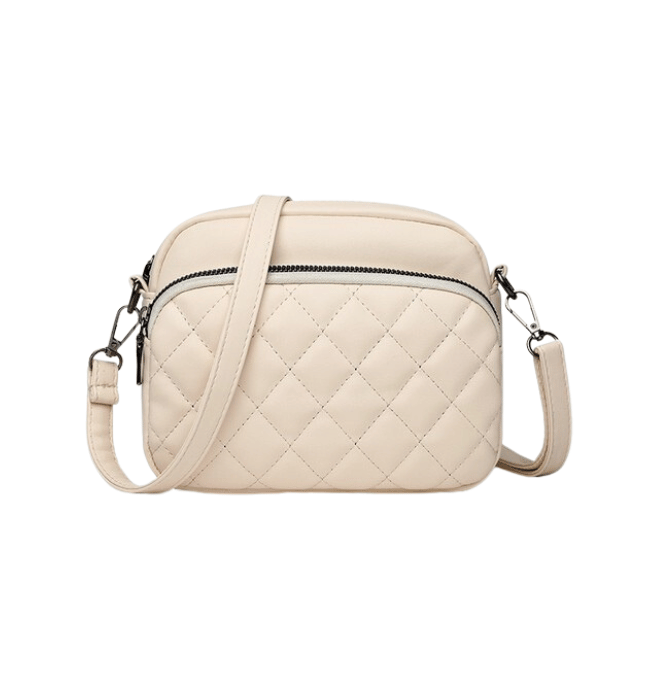 Lucy Crossbody Bag
Introducing the Lucy Crossbody Bag - a stunning blend of fashion and compassion, where style meets ethics in the most elegant way. Crafted from luxurious Vegan Leather, this handbag showcases the finest quality materials while upholding our commitment to sustainability and animal welfare.
Step inside, and you'll be greeted by the beautifully Lined Interior, adding a touch of sophistication and ensuring your belongings stay safe and protected. With dimensions of 7.5" x 2.4" x 5.9", this compact yet spacious bag offers enough room to carry all your essentials without compromising on style.
Organization is made effortless with Two Zipper Pockets Inside, allowing you to keep your belongings neat and tidy. Whether it's your keys, phone, or makeup, everything will have its dedicated space, so you can find what you need when you need it.
But the Lucy Crossbody Bag doesn't just excel in style and functionality; it boasts Silver Hardware that adds a touch of chic elegance to the overall design. The silver accents complement the vegan leather perfectly, elevating the bag's allure and making it a true statement piece.
Wear it with ease and comfort, thanks to the Removable Adjustable Strap. Customize the length to your liking and enjoy the convenience of a hands-free carry, leaving you free to tackle your day with confidence and flair.
Whether you're heading to a formal event or a casual outing, the Lucy Crossbody Bag is the perfect companion that effortlessly complements any outfit. It's the ideal balance of fashion-forward design and ethical choices, making it a handbag you'll be proud to show off.
Indulge in the beauty of vegan leather, the practicality of organization, and the allure of silver hardware - all embodied in the Lucy Crossbody Bag. Elevate your style, express your values, and embrace the charm of ethical fashion - get your Lucy Crossbody Bag now!