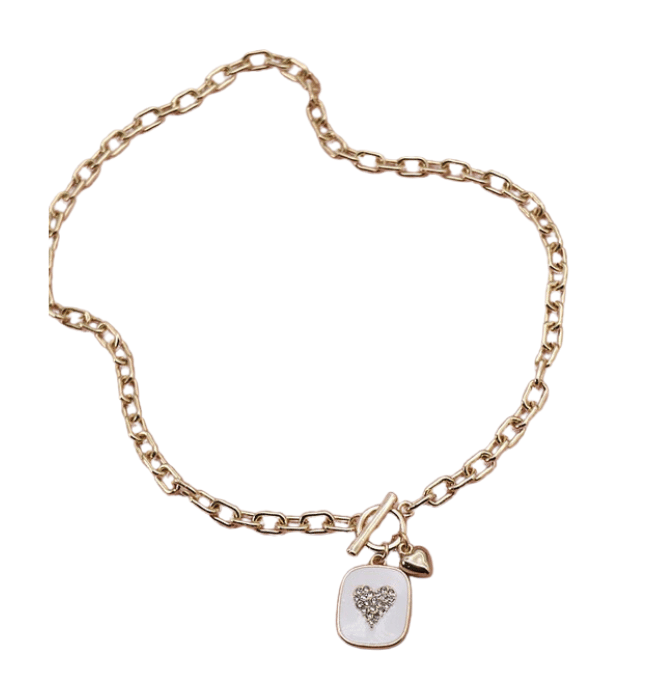 Corazón Layered Necklace
Corazón Layered Necklace—a radiant blend of contemporary design and timeless elegance. This exceptional necklace features a captivating epoxy rectangle pendant adorned with a rhinestone heart on a convenient toggle closure, creating a stylish and meaningful piece for women who appreciate classic style.

Features:

Length: 16 inches
Charm Size: 0.75 inches
Clasp: Toggle
Metal Finish: Gold Plating
Product: Lead & Nickel Compliant
Anti-Tarnish: Double E-coating

The Corazón Layered Necklace is a testament to simplicity and sophistication. Its 16-inch length ensures it rests gracefully on your neckline, making it a versatile addition to your jewelry collection. The focal point of this necklace is the epoxy rectangle pendant, beautifully accented with a rhinestone heart that adds a touch of sparkle and sentiment.

The toggle clasp not only secures the necklace with ease but also serves as a stylish element that elevates the overall design. This necklace is highly polished and plated in radiant gold, creating a lustrous finish that complements any outfit, whether you're dressing up for a special occasion or adding a touch of elegance to your everyday attire.

For added peace of mind, the Corazón Layered Necklace is lead and nickel compliant, ensuring it's suitable for all-day wear, even for those with sensitive skin. The double E-coating provides an extra layer of protection against tarnishing, ensuring that this piece remains as brilliant as the love it represents.

Gift yourself or a loved one with the Corazón Layered Necklace—a symbol of heartfelt elegance and classic style. Whether worn on its own or layered with other necklaces, it's the perfect choice to convey your timeless charm and affection. Elevate your style and embrace the love that this necklace embodies. Discover Corazón today.