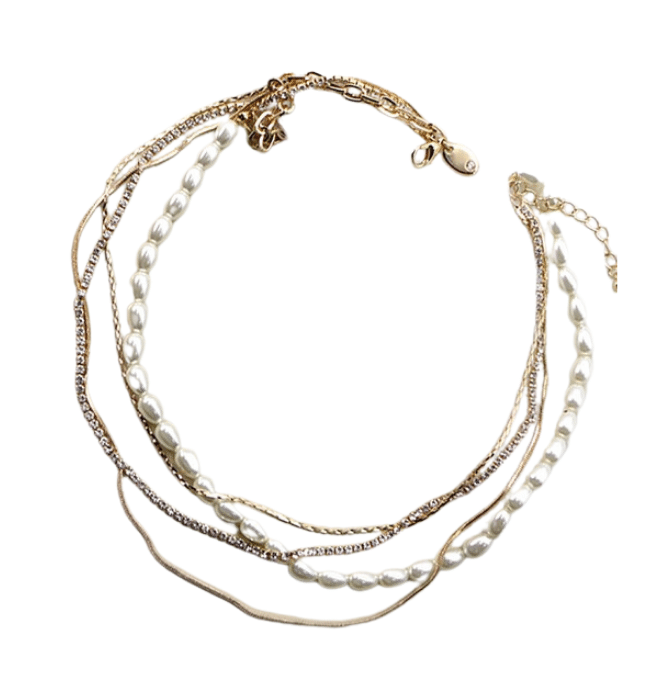 Lulu Layered Necklace
Lulu Layered Necklace—an exquisite multi-strand masterpiece that combines elegance, sparkle, and bold design. With four gold-tone chains featuring varying designs, including a dazzling rhinestone charm and pearls, a snake chain, and a box chain, this necklace is the epitome of versatile sophistication.

Key Features:

Length: 17" (top layer), 16" (second layer), 15" (third layer), 14" (bottom layer)
Extender: 3" Ball Chain Extender
Clasp: Lobster Claw
Metal Finish: Gold Plated
Product: Lead & Nickel Compliant
Anti-Tarnish: Double E-coating
The Lulu Layered Necklace is a true fashion statement, designed to turn heads and capture attention. Its four layers, each with its own unique chain design, create a dynamic and harmonious blend that can effortlessly transition from day to night.

The 3-inch ball chain extender allows you to customize the necklace's length to achieve the perfect fit, while the lobster claw clasp ensures easy and secure closure. Crafted with meticulous attention to detail and plated in opulent gold, this necklace boasts a radiant finish that enhances your overall look.

Rest easy knowing that the Lulu Layered Necklace is lead and nickel compliant, making it suitable for all-day wear, even for those with sensitive skin. The double E-coating adds an extra layer of protection against tarnishing, ensuring that this piece remains as dazzling as the day you first adorned it.

Elevate your style with the Lulu Layered Necklace—an embodiment of elegance, versatility, and boldness. Whether worn as a stand-alone statement piece or layered with other necklaces, it's the perfect choice for those who appreciate the art of making a lasting impression and embracing their unique style. Make a statement with Lulu and shine with confidence.