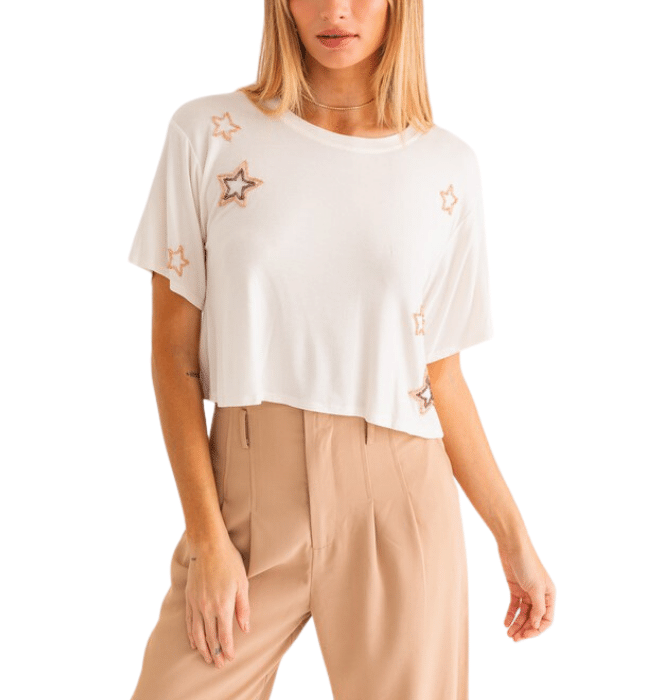 Starla Beaded Embellished Tee
Starla Beaded Embellished Tee, a stylish and eye-catching piece that adds a touch of glamour to your wardrobe. This tee features beautiful star embellishments and is crafted from a soft fabric, providing both comfort and style.

The Starla Tee showcases an ivory background, creating a versatile base that pairs well with a variety of bottoms. The soft fabric ensures a cozy and gentle feel against your skin, making it a pleasure to wear throughout the day.

With its cropped length, this tee offers a trendy and modern silhouette. It is perfect for those who love a more fashion-forward look and want to showcase their sense of style. Pair it with high-waisted jeans or skirts for a chic and flattering ensemble.

The star embellishment details on the tee add a touch of sparkle and elegance. The gold and mauve beads create a captivating contrast against the ivory background, making this tee stand out from the crowd. The embellishments add a dose of glamour without being overpowering, striking the perfect balance.

Crafted from a blend of 95% rayon and 5% spandex, the Starla Tee ensures a comfortable and stretchy fit. The fabric blend offers breathability and freedom of movement, allowing you to stay comfortable while looking stylish.

The Starla Beaded Embellished Tee is a versatile piece that can be dressed up or down. Wear it with jeans and sneakers for a casual yet chic daytime look, or pair it with a skirt and heels for a more sophisticated evening ensemble.