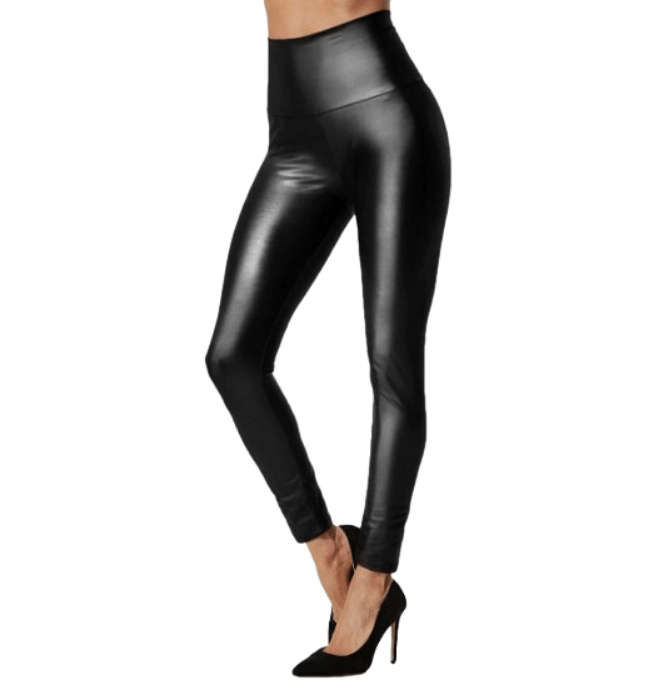 Dash Fleece Lined Faux Leather Leggings
Dash Fleece Lined Faux Leather Leggings—the ultimate blend of style and comfort. Crafted with precision from a high-quality mix of 96% Polyester and 4% Spandex, these leggings offer a luxurious feel with a hint of edge.

Key Features:

Faux Leather Elegance: The Dash Leggings are designed to exude a bold and chic aesthetic with their faux leather finish. These high-waisted leggings make a stylish statement, perfect for various occasions.

Thin Fleece Lining: With a thin, cozy fleece lining, these leggings are incredibly comfortable and warm. The fleece lining provides extra insulation, making them ideal for colder days without compromising on style.

Styling Versatility:

Edgy Chic: Pair them with a slouchy sweater and ankle boots for a trendy yet relaxed look that's perfect for casual outings.

Nighttime Glam: Dress them up with a sequined top and heels for a sophisticated night out ensemble.

Layered Sophistication: Wear them under a long tunic or oversized sweater with knee-high boots for a stylish layered outfit.

Effortless Everyday: Combine them with a graphic tee and sneakers for a comfortable and fashion-forward daytime look.

The Dash Fleece Lined Faux Leather Leggings aren't just leggings; they're a versatile canvas for your personal style. Whether you're going for a casual day out or aiming to make a bold fashion statement, these leggings ensure you do it with flair. Elevate your comfort and style with the Dash Leggings today!