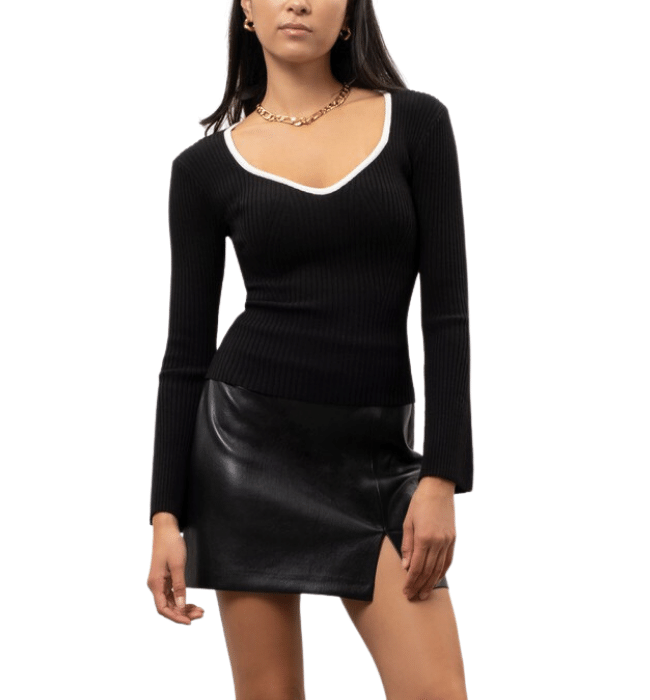 Duchess Scalloped Neckline Top
Duchess Scalloped Neckline Top—a fusion of timeless elegance and modern style. Crafted with precision from a premium blend of 68% Viscose and 32% Polyester, this top promises a luxurious feel and a flattering fit.
Key Features:
Scallop Neckline: The Duchess Top features a beautifully scalloped neckline that adds a touch of femininity and sophistication to your look. It's a unique detail that sets it apart from ordinary tops.

Long Sleeve Comfort: Designed with long sleeves, this top ensures comfort and warmth while maintaining a stylish appearance. It's perfect for cooler days and can be easily layered for extra coziness.

Fitted Silhouette: The fitted design of this top hugs your curves gracefully, accentuating your figure and creating a flattering silhouette.

Contrast Detail: A subtle contrast detail adds visual interest and depth to the top, making it a standout piece that effortlessly elevates your outfit.

Rib Knit Texture: The rib knit texture not only adds a cozy element to the top but also provides a lovely texture that enhances its overall appeal.
Styling Inspiration:
Classic Chic: Pair it with tailored trousers and heels for a polished office-ready ensemble that exudes confidence.

Effortless Everyday: Combine it with your favorite jeans and ankle boots for a casual yet stylish daytime look.

Understated Elegance: Layer it under a blazer or cardigan for a refined and sophisticated outfit suitable for various occasions.

Date Night Ready: Wear it with a skirt and statement jewelry for a romantic and fashionable date night outfit.
The Duchess Scalloped Neckline Top isn't just a top; it's a versatile canvas for your personal style. Whether you're going for a classic look or adding a modern twist, this top adapts to your fashion choices seamlessly. Elevate your wardrobe with the timeless elegance of the Duchess Top today!