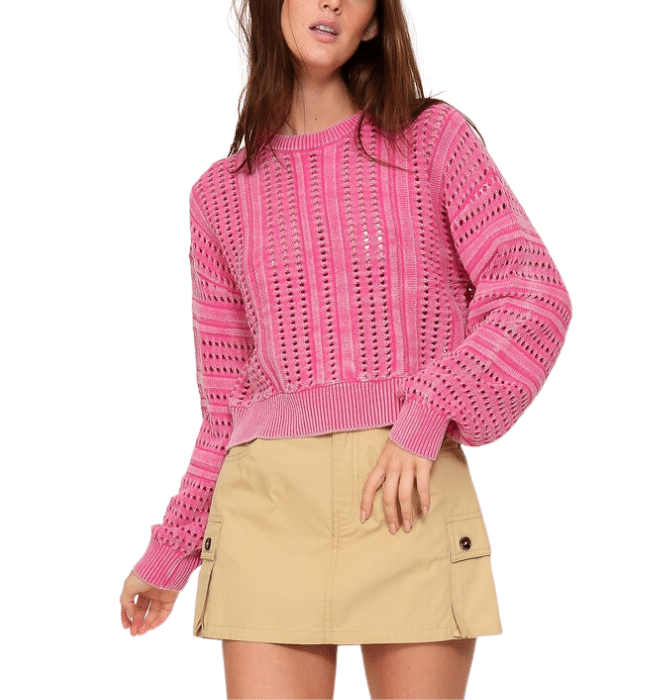 Acid Wash Wonder Sweater
Introducing our stunning "Acid-Washed Wonder" Long-Sleeved Round-Neck Sweater – a true testament to daring fashion and undeniable comfort. This sweater is more than just clothing; it's a statement piece that captures the essence of boldness and coziness in one captivating package.
Features:
1. Unique Acid-Washed Pattern: This sweater stands out with its one-of-a-kind acid-washed pattern. Its bold design speaks volumes about your adventurous spirit and sets you apart from the crowd with a style that's truly your own.
2. Soft Fabric Embrace: We understand the importance of comfort, and that's why this sweater is crafted from the softest 100% cotton fabric. It's like a warm and gentle hug, enveloping you in a cocoon of coziness all day long.
3. Fashionable Versatility: Whether you're heading out for a night on the town or conquering a busy day at work, this sweater effortlessly adapts to any occasion. Its versatility ensures you're always dressed to impress.
Sizing Information:
Available in a range of sizes, we've got the perfect fit to complement your unique style.
The Perfect Wardrobe Addition:
Elevate your fashion game with our "Acid-Washed Wonder" sweater. It's more than a clothing item; it's an embodiment of enigmatic allure and bold sophistication.
100% Cotton for Absolute Quality:
We believe in using the best materials, and that's why this sweater is made from 100% cotton. It's not only incredibly comfortable but also a durable piece that will stand the test of time.
Your style deserves to shine, and this sweater is the key to unlocking its full potential. Embrace the daring spirit of the "Acid-Washed Wonder" and make it a part of your wardrobe today. Every time you wear it, you'll feel the magic of its unique pattern and the embrace of its soft fabric, all while radiating an enigmatic allure that's undeniably captivating.