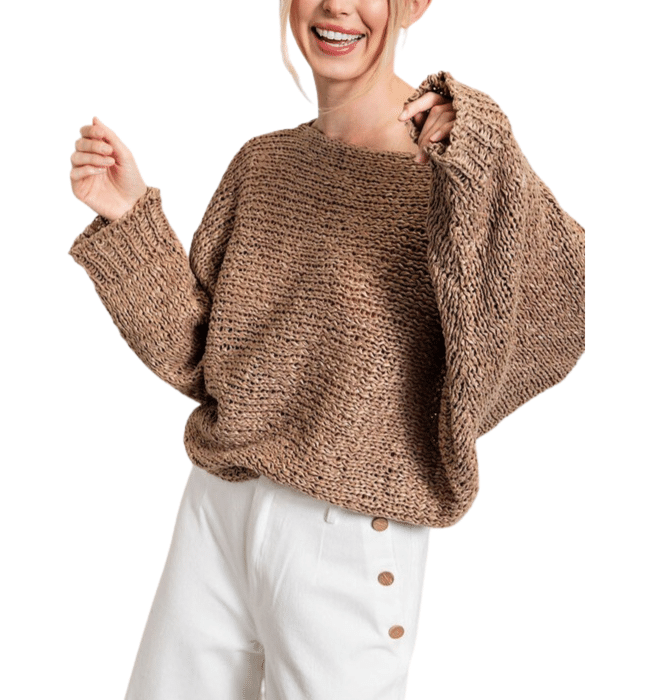 Allison Loose Fit Knit Sweater
Allison Loose Fit Knit Sweater – a versatile and comfortable addition to your wardrobe that effortlessly combines style with comfort. This solid long sleeve knit sweater is designed to keep you cozy while making a fashion statement. Here's why you'll love it:
Boat Neckline for a Cold Shoulder Effect: The Allison Knit Sweater boasts a boat neckline that creates a chic cold shoulder effect. It adds a touch of elegance to the sweater while also providing a hint of allure.
Relaxed and Loose Fit: This sweater features a relaxed and loose fit body, making it perfect for lounging or casual outings. It drapes beautifully over your body, ensuring comfort and a stylish silhouette.
Versatile Styling: Pair the Allison Sweater with jeans for a laid-back, casual look that's perfect for a day out with friends. Or, style it with a dress to add a touch of sophistication and warmth for more formal occasions.
Fabric Contents: Crafted from a blend of 60% COTTON and 40% ACRYLIC, this knit sweater offers a soft and breathable feel. The combination of materials ensures both comfort and durability, making it suitable for year-round wear.
Whether you're going for a relaxed day or a fancier evening out, the Allison Loose Fit Knit Sweater is a go-to piece in your wardrobe. Its boat neckline and loose fit provide a fashionable edge, while its cozy fabric keeps you warm and comfortable. Elevate your style effortlessly with this versatile and chic knit sweater.