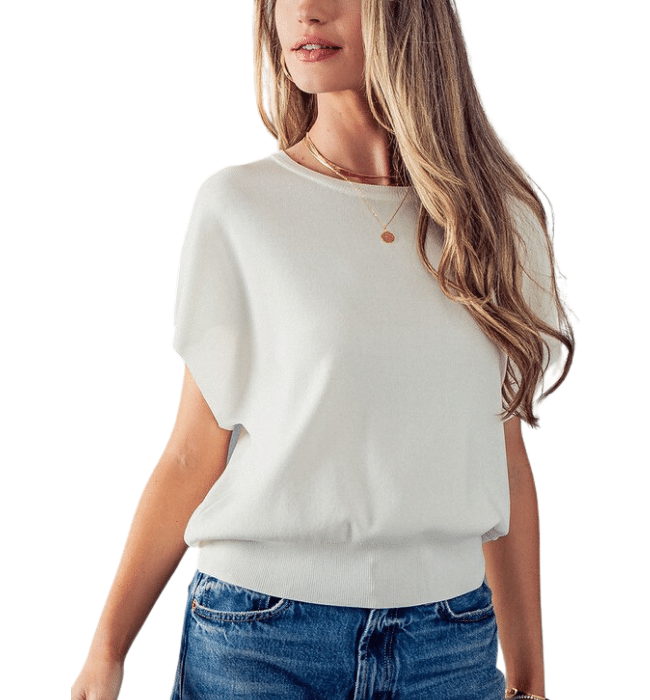 Americana Short Sleeve Tunic Top
Get ready to showcase your fashion flair with our chic and cozy Americana Short Sleeve Tunic Top! This crew neck tunic is a versatile and timeless addition to your wardrobe, designed to elevate your everyday style with ease. Crafted from a blend of 63% acrylic and 37% polyamide, this tunic top offers a perfect balance of softness and durability.

The crew neck design adds a touch of sophistication, making it suitable for both casual and semi-formal occasions. The wide short sleeves not only provide a relaxed and laid-back look but also offer ample breathability, ensuring you stay comfortable all day long.

The Americana Short Sleeve Tunic Top is all about versatility - wear it with your favorite denim for a casual day out or dress it up with tailored pants for a more polished office look. Its flattering silhouette drapes beautifully on all body types, making it a must-have staple in every woman's closet.

Key features of the Americana Short Sleeve Tunic Top:

Effortless style: A classic crew neck and wide short sleeves create a chic and fashionable look.
Comfort first: Crafted from a blend of acrylic and polyamide for a soft, cozy feel.
Versatile and adaptable: Perfect for various occasions, from casual outings to work settings.
Flattering fit: The tunic's design complements all body shapes, enhancing your natural beauty.
Embrace the essence of Americana fashion with this stunning tunic top and express your individuality with confidence. The blend of comfort and style makes it a go-to piece for any day of the week. Discover the joy of effortlessly combining fashion and comfort - order your Americana Short Sleeve Tunic Top today and experience the joy of timeless style!