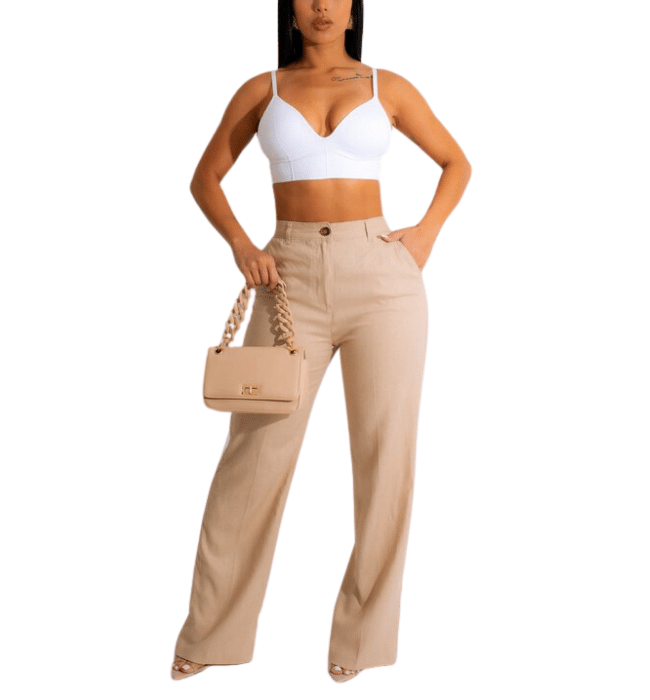 Brooke Linen Wide Leg Pant
Brooke Linen Wide Leg Pant, a must-have addition to your summer wardrobe. Crafted from high-quality linen fabric, these pants offer a perfect blend of comfort and style. 55% Linen, 45% Viscose.

Equipped with belt loops, these pants offer versatility and the option to accessorize with your favorite belt. You can easily personalize your look by adding a statement belt or a classic leather one, making these pants suitable for various occasions. Convenient side pockets are always a plus! With a zipper fly and a tortoise shell button closure, these pants offer a secure and stylish fit. 
The faux back pockets add visual interest to the Brooke Linen Wide Leg Pant while maintaining a smooth and streamlined appearance. These pockets create a balanced and polished look, perfect for both casual and semi-formal settings. To ensure a comfortable fit, these pants also feature a back elastic waistband. This elastic element provides flexibility and allows for a customized fit that accommodates your individual shape and size.

The wide leg silhouette of the Brooke Linen Wide Leg Pant is both trendy and flattering. It offers a relaxed and breezy feel, perfect for hot summer days. The flowing fabric provides freedom of movement while creating an effortlessly chic look.

Pair these pants with a tucked-in blouse or a stylish top for a polished and sophisticated ensemble. Whether you're heading to the office, going out with friends, or enjoying a weekend getaway, the Brooke Linen Wide Leg Pant is a versatile choice that exudes style and comfort.