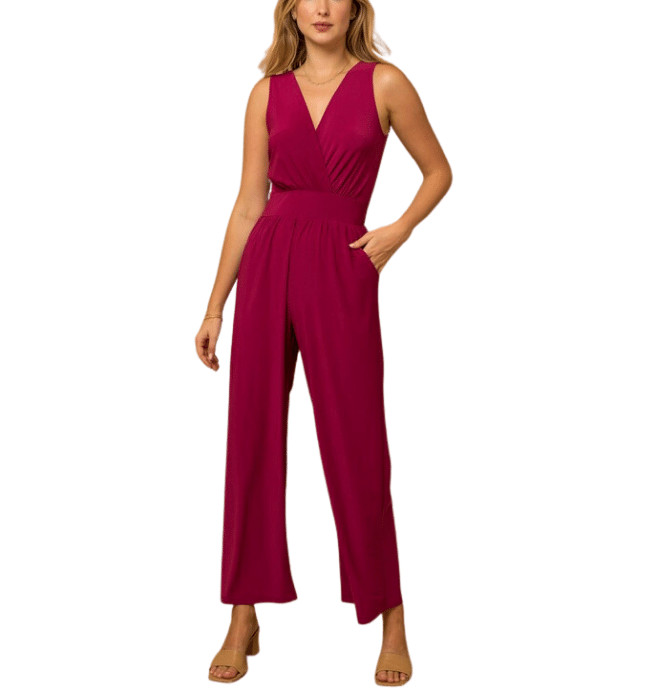 Sweet Caroline Jumpsuit
Introducing our V-neck Jumpsuit with Side Pockets, a stylish and versatile piece that combines comfort and fashion effortlessly. This jumpsuit features a flattering V-neckline and convenient side pockets, making it a practical and chic choice for various occasions.
Crafted with care, this jumpsuit is made from a stretchy blend of 96% polyester and 4% spandex. The fabric offers a comfortable and flexible fit, allowing for ease of movement throughout the day. The poly-spandex blend also provides durability and shape retention, ensuring that the jumpsuit maintains its form wear after wear.
The V-neckline adds a touch of elegance and sophistication to the jumpsuit. It creates a flattering frame for the décolletage, while the elongated silhouette adds a hint of allure. It's a versatile neckline that can be dressed up or down depending on the occasion.
The side pockets are a practical and functional feature of this jumpsuit. They provide a convenient place to store small essentials like your phone, keys, or lip balm, allowing you to keep your hands free and your belongings secure.
This jumpsuit is perfect for a wide range of occasions. Dress it up with heels and statement accessories for a night out or a special event. For a more casual look, pair it with sandals and a denim jacket. The options are endless, and this jumpsuit will quickly become a go-to piece in your wardrobe.
Experience the perfect combination of style and comfort with our V-neck Jumpsuit with Side Pockets. Made from a stretchy blend of polyester and spandex, this jumpsuit offers a comfortable and flexible fit. Embrace the V-neckline and the practical side pockets, and enjoy the fashionable and functional look this jumpsuit provides.