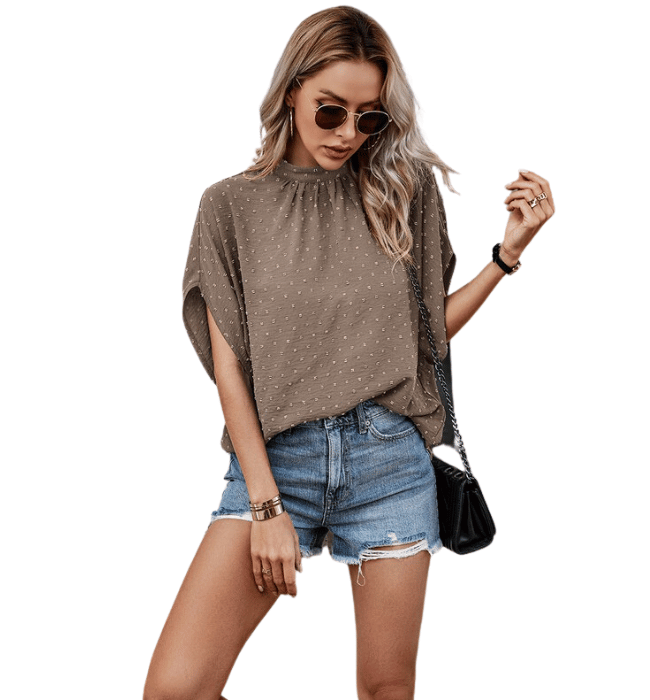 Chloe Swiss Dot Tie Back Top
Introducing the "Chloe" Tie Back Top – a perfect blend of elegance and comfort that brings a touch of sophistication to your wardrobe. This top features exquisite details that effortlessly elevate your style, making it a versatile choice for various occasions.
Features:
1. High Neck Elegance: The "Chloe" Top boasts a high neck design that exudes refinement and grace. The high neck adds a chic touch while framing your face beautifully.
2. Swiss Dot Detail: The swiss dot pattern on the fabric adds a subtle texture that enhances the overall appeal of the top, creating an eye-catching effect that's both modern and timeless.
3. Back Keyhole: The tie back keyhole detail adds a touch of allure to the top, showcasing a hint of skin while maintaining an air of sophistication.
4. Short Sleeve Comfort: The short sleeves offer a comfortable fit that's perfect for warmer weather, making this top a versatile piece that can be worn throughout the seasons.
Fabric Composition:
Crafted from 100% polyester fabric, this top offers a lightweight and soft feel against your skin. The fabric content ensures both comfort and durability.
Sizing Information:
Available in various sizes, the "Chloe" Tie Back Top is designed to provide a relaxed fit that suits your personal style.
Versatile Elegance:
Whether you're heading to a special event, a brunch with friends, or simply want to add a touch of elegance to your day, the "Chloe" Tie Back Top offers a stylish solution.
Experience the fusion of elegance and comfort with the "Chloe" Tie Back Top. Its high neck design, swiss dot pattern, and back keyhole detail make it a standout piece that effortlessly transitions from day to night. Embrace the versatility it offers, allowing you to create chic and sophisticated outfits that showcase your personal fashion flair. With its lightweight fabric and loose fit, this top ensures both comfort and lasting quality, making it a treasured addition to your wardrobe.