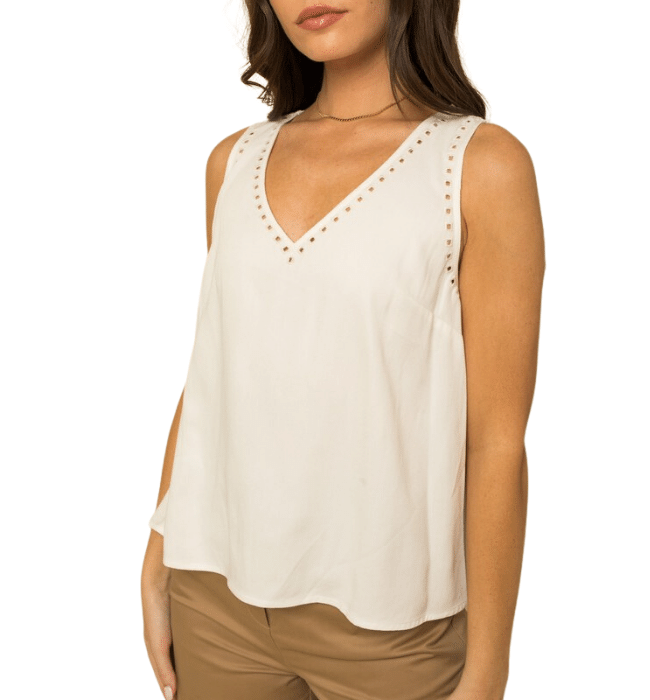 Clarissa Ivory Eyelet Tank
Clarissa Ivory Eyelet Tank, a charming and feminine addition to your summer wardrobe. This sleeveless tank top features a V-neckline and eyelet embroidery, offering a delightful combination of style and comfort.

Made in the USA from 100% rayon, the Clarissa tank provides a soft and lightweight feel, ensuring all-day comfort in warm weather. The loose fit allows for breathability and freedom of movement, making it a perfect choice for those hot summer days.

The eyelet embroidery adds a touch of elegance and intricate detail to the tank. The delicate eyelet patterns create a beautiful texture and visual interest, enhancing the overall design. It adds a feminine and romantic element to your outfit, making this tank a versatile option for various occasions.

With its sleeveless design and V-neckline, the Clarissa tank offers a flattering and sophisticated look. The V-neckline accentuates the neckline and adds a touch of allure, while the sleeveless style keeps you cool and comfortable.

The Clarissa Ivory Eyelet Tank can be easily paired with shorts, skirts, or jeans for a casual and chic ensemble. Dress it up with a statement necklace and heels for a more polished and dressed-up look, or keep it casual with sandals for a relaxed vibe.

Whether you're heading to a brunch, a beach day, or a weekend getaway, the Clarissa Ivory Eyelet Tank is a versatile and stylish choice. Embrace its loose fit, eyelet embroidery, and 100% rayon fabric for a comfortable and fashion-forward look.