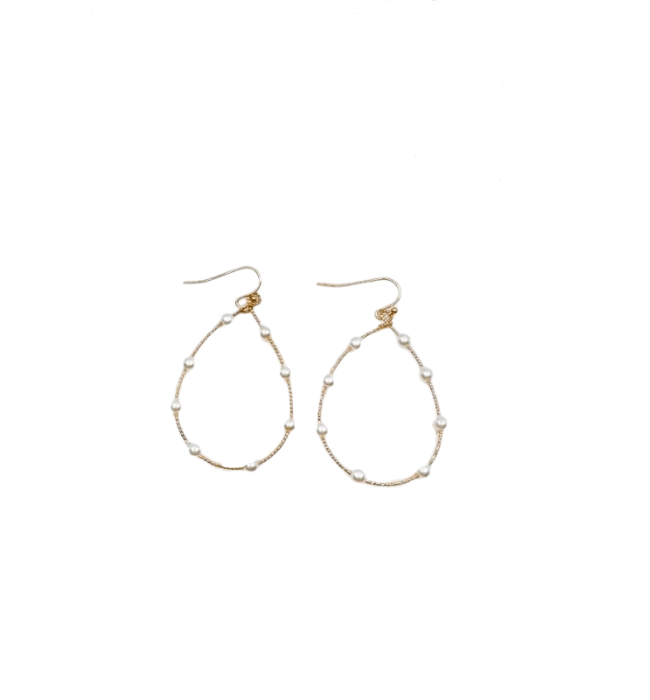 Dainty Teardrop Pearl Earrings
Introducing our elegant and delicate Dainty Pearl Teardrop Dangle Earrings, the epitome of timeless beauty and sophistication. These exquisite earrings are designed to add a touch of grace and charm to any outfit.
Dainty Diamond Cut Wire: Crafted with a dainty diamond cut wire, these earrings exude a sense of elegance and refinement. The delicate wire adds a subtle touch of shimmer, making these earrings effortlessly chic.
Pearl Details: The pearl details on these earrings are the epitome of classic beauty. The lustrous pearls add a touch of sophistication and a timeless appeal, making these earrings perfect for both formal occasions and everyday wear.
Earring Length: With an approximate length of 1.75 inches, these earrings strike the perfect balance between being noticeable and dainty. The size allows them to gracefully dangle, adding an element of grace and poise to your appearance.
Versatile and Stylish: These dainty pearl teardrop dangle earrings are versatile enough to complement various outfits, from casual to more dressy ensembles. They are the perfect accessory to express your individual style and add a touch of elegance to any look.
Quality Craftsmanship: Crafted with meticulous attention to detail and using high-quality materials, these earrings are made to impress. The durable construction ensures that you can enjoy wearing them for any occasion, from everyday wear to special events.
Step up your jewelry game with our Dainty Pearl Teardrop Dangle Earrings. Embrace the timeless beauty of the pearl details and the sophistication of the dainty diamond cut wire. Let these elegant earrings become your go-to accessory for expressing your unique style.
Don't miss out on these exquisite earrings. Order now and experience the magic of our Dainty Pearl Teardrop Dangle Earrings. Prepare to stand out and make a fashion statement that reflects your impeccable taste and refined charm!