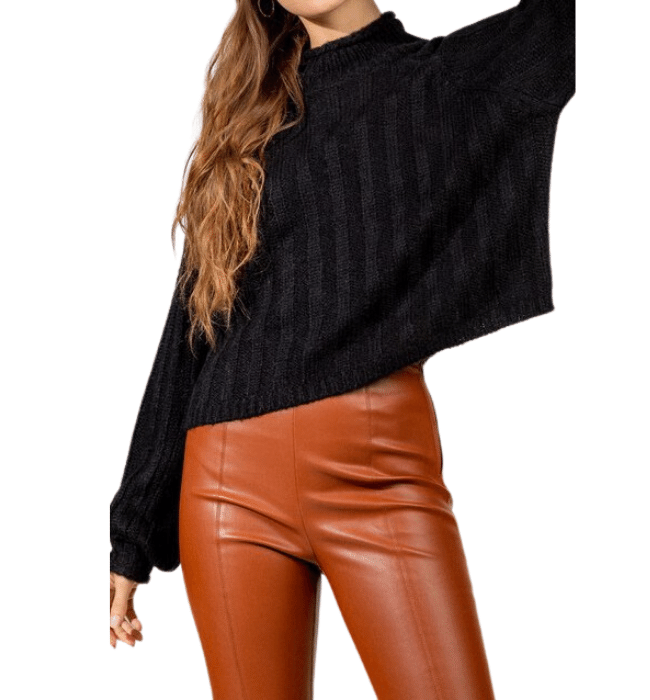 Eliza Ribbed Mock Neck Sweater
Eliza Ribbed Mock Neck Sweater - a captivating blend of timeless style and modern comfort, designed to elevate your wardrobe.
This ribbed knit mock neck sweater in a sleek black color is an essential addition for the fashion-savvy woman. Crafted from a high-quality blend of 85% acrylic, 10% cotton, and 5% polyester, it promises both softness and durability.
The mock neck design adds a contemporary edge to this classic piece, ensuring you stand out from the crowd. The ribbed knit texture not only adds a delightful visual dimension to your ensemble but also offers a cozy feel against your skin.
Balloon sleeves introduce an element of drama and sophistication, making this sweater a versatile choice for various occasions. Whether you're going to the office, enjoying a dinner out, or spending a casual weekend at home, this sweater seamlessly transitions from day to night.
The Eliza Ribbed Mock Neck Sweater is the epitome of elegance, offering both style and comfort. Pair it with your favorite jeans for a laid-back look, or dress it up with a skirt and heels for a chic ensemble.
Embrace the timeless allure of this sweater and redefine your style with confidence. Order your Eliza Ribbed Mock Neck Sweater today and experience the perfect blend of fashion and comfort. Don't miss out on this versatile wardrobe staple.