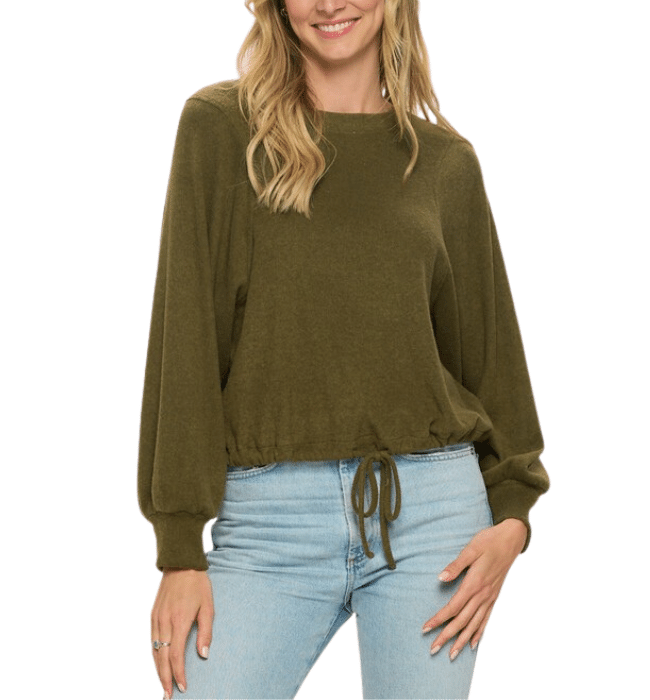 Ella Brushed Knit Sweater
Ella Brushed Knit Sweater: Your Ultimate Cozy Companion

Elevate your comfort and style with the Ella Brushed Knit Sweater. Crafted with meticulous attention to detail, this long-sleeved masterpiece offers the perfect combination of warmth, softness, and fashion-forward design. Whether you're heading out for a casual day or a cozy night in, this versatile sweater has got you covered.

Supreme Comfort in Brushed Knit:
Our Ella Brushed Knit Sweater is made from a luxurious blend of 68% polyester, 28% rayon, and 4% spandex. This unique fabric offers a heavyweight, soft, and cozy feel, ensuring you stay warm and comfortable in all seasons. Wrap yourself in the indulgent warmth of this fuzzy knit.

Versatile Styling Options:
The Ella Sweater offers various styling options to suit your mood. The loose fit and relaxed round neck provide a casual and effortless look. Enhance your silhouette with the drawstring waist, allowing you to customize your fit and accentuate your curves. Long balloon sleeves add a trendy twist to this classic piece, making it perfect for any fashion-forward woman.

Subtle Stitching Details:
This sweater takes attention to detail to the next level. With stitching detail and curved armholes, it boasts a unique and stylish touch that sets it apart. Elevate your everyday style with this elegant stitching detail.

Easy-to-Wear Fashion Staple:
The Ella Brushed Knit Sweater is not just a fashion statement; it's a versatile wardrobe essential. Whether you're dressing up for a special occasion or simply want to stay cozy on a lazy day, this sweater effortlessly adapts to your needs. It's a basic yet trendy piece that can be worn for any occasion.