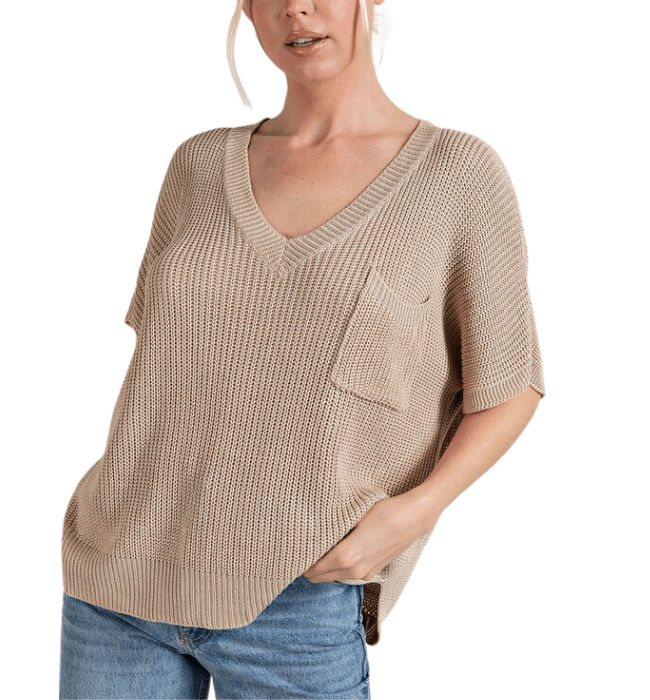 Emma Knit Short Sleeve Top
The Emma Knit Short Sleeve Top, the perfect combination of comfort and style. This flowy V-neck top is designed to provide a relaxed and effortless look while keeping you comfortable throughout the day.

Made from a luxurious blend of 50% Viscose and 50% Nylon, this top offers a soft and lightweight feel against your skin. The fabric drapes beautifully, allowing for ease of movement and a flattering fit.

The V-neckline adds a touch of femininity and elegance to the top, creating a flattering frame for your décolletage. The short sleeves provide coverage while keeping you cool during warmer days.

One of the highlights of the Emma Knit Short Sleeve Top is the front pocket design, adding a chic and functional element to the overall look. The pocket not only adds visual interest but also provides a convenient place to store small essentials.

With its comfortable and flowy silhouette, this top is perfect for both casual and dressier occasions. Whether you're running errands, meeting friends for lunch, or attending a social event, the Emma Knit Short Sleeve Top will keep you looking effortlessly stylish.

The sky blue color adds a fresh and vibrant touch to your outfit, making a statement while remaining versatile enough to pair with various bottoms and accessories.

Invest in the Emma Knit Short Sleeve Top and experience the perfect blend of comfort and style. Elevate your wardrobe with this must-have piece and embrace its relaxed yet fashionable design. Show off your fashion sense with confidence and enjoy the comfort it provides throughout the day.