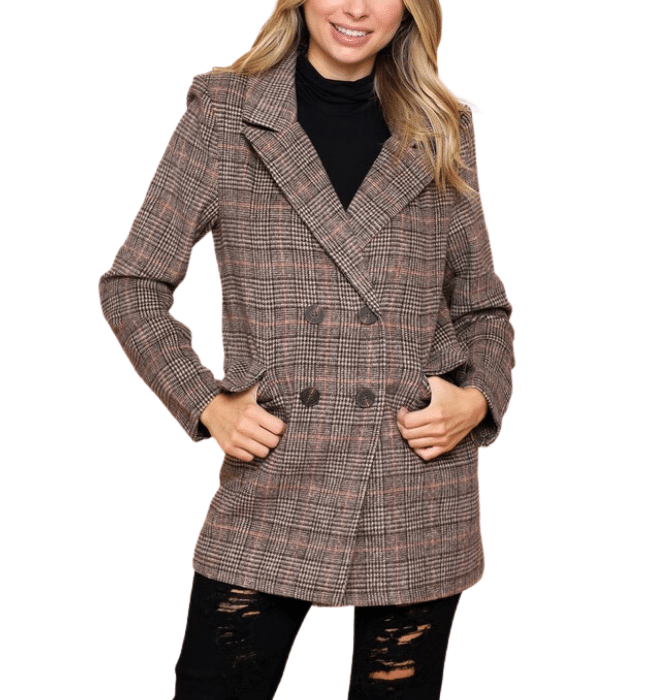 Essex Double Breasted Plaid Blazer
Introducing our Essex Double Breasted Plaid Blazer – the epitome of sophistication and style for the modern woman. Crafted with meticulous attention to detail, this blazer jacket combines timeless elegance with contemporary comfort to elevate your wardrobe.
Premium Comfort: Our double-breasted plaid blazer is designed with your comfort in mind. Made from super-soft 100% polyester fabric, it feels luxurious against your skin, making it perfect for all-day wear.
Chic Plaid Pattern: The classic plaid pattern adds a touch of sophistication to your outfit. Whether you're dressing up for a business meeting or a night out, this blazer effortlessly exudes style.
Lining for Added Quality: Inside, you'll find a high-quality lining that not only enhances the blazer's durability but also ensures a smooth fit and finish. It's a testament to our commitment to quality.
Functional Pockets: With two front utility pockets, you'll have plenty of room to carry essentials while keeping your hands warm. Practicality meets style in this thoughtfully designed blazer.
Tortoise Shell Buttons: The exquisite tortoise shell buttons add a subtle touch of glamour to your ensemble. They're the perfect finishing touch that elevates this blazer from ordinary to extraordinary.
Whether you're wearing it to the office, a special event, or simply want to elevate your everyday style, the Essex Double Breasted Plaid Blazer is the versatile choice you've been looking for. Pair it with jeans for a casual chic look or dress it up with tailored pants for a sophisticated appearance. No matter how you wear it, you'll exude confidence and charm.
Upgrade your wardrobe with the Essex Double Breasted Plaid Blazer and experience the perfect blend of style, comfort, and functionality. Make a statement wherever you go and turn heads with your impeccable fashion sense.