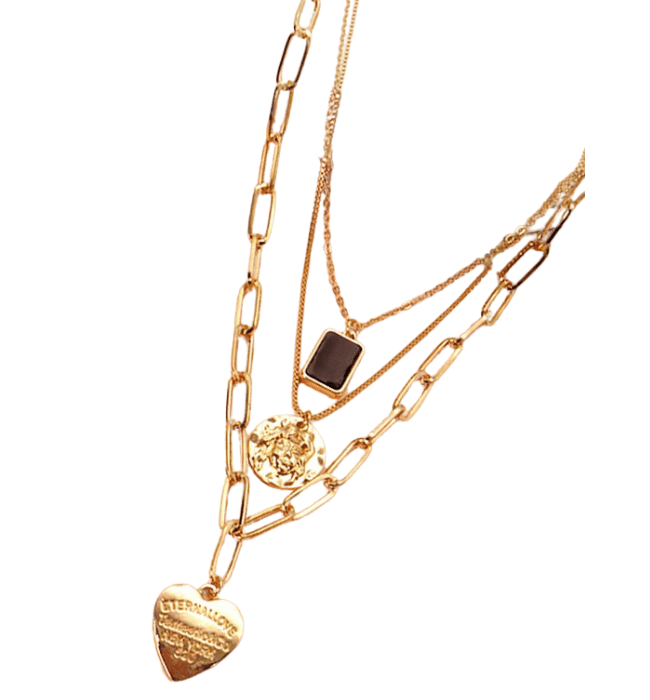 Eternal Love Layered Necklace
Eternal Love Layered Necklace—a symbol of timeless elegance and everlasting affection. This exquisite multi-layered necklace features a pendant on each layer, creating a stunning composition that's perfect for expressing your love and style.

Features:

Length: 20" (top layer), 16" (middle layer), 15" (bottom layer)
Extender: 3" Ball Chain Extender
Clasp: Lobster Claw
Metal Finish: Gold Plated
Product: Lead & Nickel Compliant
Anti-Tarnish: Double E-coating

The Eternal Love Layered Necklace is a true work of art, with each layer telling a unique story. The top layer showcases a sturdy yet delicate heart pendant on a slender link chain, symbolizing enduring love and affection. The middle layer features a simple chain adorned with a coin pendant, adding a touch of vintage charm to your look. The bottom layer is graced by an epoxy-coated black charm, creating a subtle contrast and intrigue.

With a 3-inch ball chain extender, you have the freedom to customize the necklace's length to suit your outfit and style preferences. The lobster claw clasp ensures that it stays securely in place throughout the day.

Crafted with meticulous attention to detail and plated in luxurious gold, this necklace boasts a radiant, polished finish that complements any ensemble. It's the perfect accessory to enhance your favorite dresses, blouses, or casual wear, adding an air of sophistication and grace to your look.

Rest assured, the Eternal Love Layered Necklace is lead and nickel compliant, making it suitable for even the most sensitive skin. The double E-coating not only enhances its longevity but also provides an extra layer of protection against tarnishing, ensuring that this piece remains as breathtaking as the love it represents.

Express your eternal love and unique style with the Eternal Love Layered Necklace—a masterpiece that celebrates love's enduring beauty. Whether worn alone or layered with other necklaces, it's the ideal choice to make a lasting impression and cherish the love that knows no bounds. Elevate your style and embrace eternal love today.