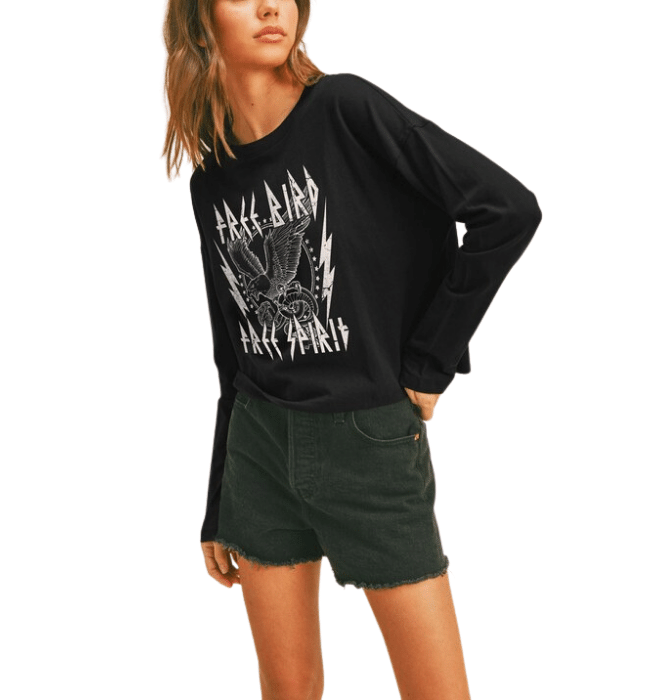 Free Bird Long Sleeve Tee
Introducing our Free Bird Long Sleeve Tee, a stylish addition to your wardrobe that blends comfort and fashion effortlessly. With a captivating white graphic against a bold black background, this tee is designed to make a statement and keep you feeling comfortable, no matter where your day takes you.
Key Features:
Eye-Catching White Graphic: The striking Free Bird graphic on this tee is a symbol of freedom and individuality. The crisp white design pops against the black background, making it a statement piece that showcases your unique style.

High-Quality 100% Cotton: Crafted from 100% cotton, this long sleeve tee offers the perfect combination of softness and breathability. It's the ideal choice for those who want to look good and feel comfortable at the same time.

Cropped Body Length: The cropped body length of this tee adds a trendy twist to a classic style. It pairs wonderfully with high-waisted jeans, skirts, or shorts, giving you a chic and flattering silhouette.

Tearaway Label: We believe in making your comfort a top priority. The tearaway label ensures you won't have to deal with any bothersome tags while enjoying this tee's soft, cozy feel.
The Free Bird Long Sleeve Tee is a versatile piece that can be dressed up or down to suit your personal style. Pair it with your favorite denim and sneakers for a laid-back, casual look, or layer it under a jacket for a more polished ensemble. This tee is perfect for any occasion.
Make a statement with the Free Bird Long Sleeve Tee and express your unique personality. The black and white contrast exudes a sense of confidence and individuality. It's more than just a tee; it's an embodiment of your free spirit.
Elevate your style today with the Free Bird Long Sleeve Tee. Add it to your cart and enjoy a perfect blend of comfort and fashion that's tailored just for you.