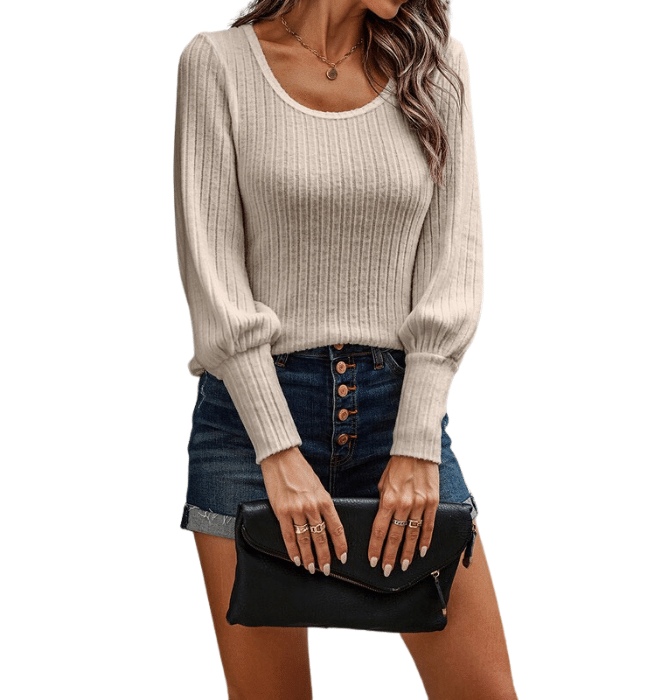 Gisele Ribbed Balloon Sleeve Sweater
Gisele Ribbed Balloon Sleeve Sweater—an effortlessly chic addition to your wardrobe that redefines comfort and style. Crafted from a premium blend of 60% Polyester, 35% Viscose, and 5% Elastane, this sweater is designed to provide both breathability and a soft, cozy touch.
The Gisele Sweater showcases a low neck and ribbed knit, offering a unique blend of sophistication and comfort. The ribbed texture adds a touch of visual interest and elevates your outfit, making it suitable for a wide range of occasions.
One of the defining features of this sweater is its balloon sleeves, which lend a trendy and relaxed silhouette. The loose, comfortable fit ensures that you can move freely while maintaining a stylish appearance.
This sweater features a collared, button-up design with a tight cuff top, creating a contemporary and refined look. The button detailing adds a touch of elegance and versatility, allowing you to customize your neckline as you please.
Whether you're pairing it with your favorite jeans for a casual day out or dressing it up with slacks for a more polished ensemble, the Gisele Ribbed Balloon Sleeve Sweater is your go-to choice for effortless style.
Elevate your comfort and fashion game with this exquisite sweater. Don't hesitate—order the Gisele Ribbed Balloon Sleeve Sweater today and experience the perfect fusion of fashion and coziness in one stylish package.