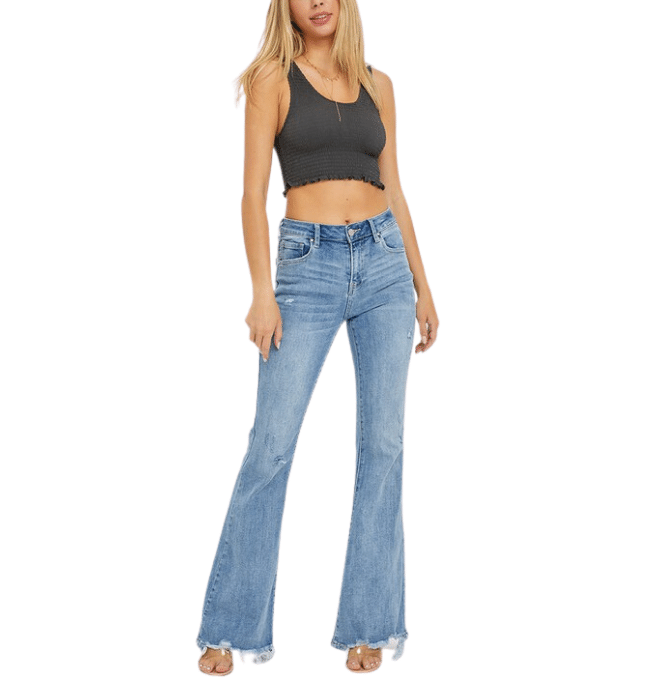 Haylan Medium Wash Flares
Introducing our "Vintage Chic" High Rise Distressed Flare Jeans – a timeless blend of retro style, modern comfort, and the perfect amount of edge. These jeans are designed to showcase your figure while embracing the latest fashion trends.
Features:
1. High Rise Design: The high rise of these jeans sits comfortably above your hips, providing a flattering fit that elongates your legs and accentuates your curves.
2. Distressed Details: The distressed elements add a touch of vintage charm and a hint of contemporary edge, making these jeans a true fashion statement.
3. Perfect Length: With an inseam of 32", our "Vintage Chic" jeans are tailored to suit a variety of heights. At 5'8", you can expect these jeans to gracefully drape over your footwear, whether you're wearing heels or flats.
4. Figure-Enhancing Stretch: Crafted from a premium blend of 80% cotton, 18% polyester, and 2% spandex, these jeans offer just the right amount of stretch to ensure a comfortable fit while retaining their shape.
Sizing Information:
Based on a model height of 5'8", waist 23", and hips 34", these jeans are designed to complement your unique proportions.
Quality and Versatility:
The durable fabric blend guarantees lasting quality, and the versatile design allows you to create a range of outfits, from casual daytime looks to stylish night outs.
Your Go-To Flare Jeans:
Channel your inner vintage chic with these high-rise, distressed flare jeans. The comfortable stretch, classic design, and attention to detail make them a must-have addition to your wardrobe.
Experience the confidence that comes from wearing jeans that effortlessly balance style and comfort. Our "Vintage Chic" High Rise Distressed Flare Jeans are a statement piece that's perfect for any occasion. Embrace the retro charm, modern fashion, and superior comfort of these jeans that are sure to become your go-to choice for both everyday wear and special events.