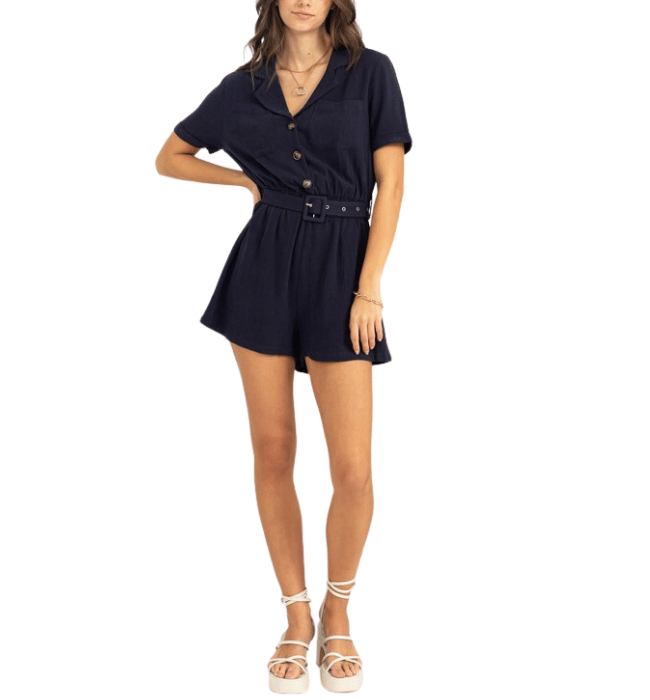 Ivana Navy Belted Romper
Introducing our Navy Romper with Belt, a stylish and comfortable one-piece garment that effortlessly combines casual sophistication with a touch of refinement. This romper is designed to enhance your natural beauty and provide a versatile option for any occasion, from a relaxed brunch to a summer getaway.
Crafted with care, this romper features a button front design that adds a charming and playful element to its overall aesthetic. The buttons not only serve as functional closures but also contribute to the romper's chic and trendy appeal. The belted waistline cinches and accentuates your figure, creating a flattering silhouette that exudes confidence and style.
Made from a premium blend of 80% rayon and 20% linen, this romper offers the best of both worlds. The lightweight and breathable fabric ensures optimum comfort, making it ideal for warm weather. The rayon lends a silky smoothness to the romper, while the linen adds a hint of texture, resulting in a luxurious and comfortable wearing experience.
The deep navy color adds a touch of elegance to the romper, making it easy to dress up or down according to your desired look. Pair it with sandals or wedges for a casual daytime ensemble, or dress it up with heels and statement accessories for a night out on the town. The versatility of this navy romper allows you to create various outfits that suit your personal style and the occasion.
Embrace effortless style with our Navy Romper with Belt, where comfort meets fashion. With its button front design, belted waist, and high-quality fabric blend, this romper is the epitome of relaxed sophistication. Elevate your summer wardrobe and make a lasting impression with this must-have piece.