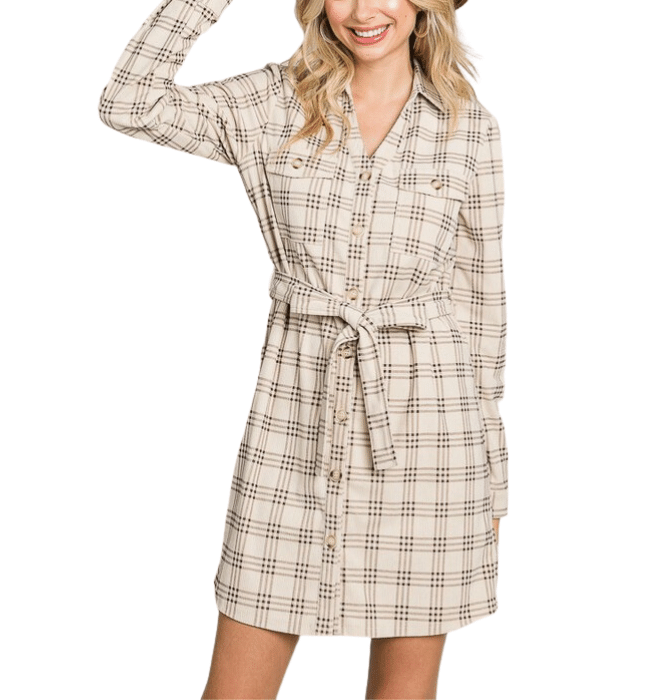 Jennifer Plaid Button Down Dress
Jennifer Plaid Button Down Dress – a versatile and stylish addition to your wardrobe designed to capture the essence of both comfort and fashion. This corduroy check printed shirt dress offers a range of features that make it a must-have piece. Here's why you'll love it:
Corduroy Check Printed: The Jennifer Plaid Button Down Dress showcases a unique corduroy check print that adds a touch of texture and depth to your outfit. It's a trendy twist on a classic design, making it a standout piece.
Slightly Stretchy Fabric: Crafted from fabric with a slight stretch (Cotton 97%, Spandex 3%), this dress ensures that you're not only fashionable but also comfortable. The stretch allows for ease of movement while maintaining a flattering fit.
Usable Flap Pockets: The usable flap pockets add a practical and fashionable element to the dress. They provide a convenient place to store small essentials while enhancing the overall design.
Front Tie Waist: The front tie waist allows you to cinch in the dress for a flattering silhouette and adds an element of style. It's a versatile feature that lets you customize your look to your liking.
Wear as a Top or Dress: This dress is incredibly versatile and can be worn as a top or dress. Pair it with leggings or tights for a chic dress look, or wear it over jeans for a trendy shirt dress style.
The Jennifer Plaid Button Down Dress is the perfect choice for elevating your casual-chic look. Whether you're dressing it up with boots and accessories for a night out or keeping it casual with sneakers for a day of shopping, this dress offers both style and comfort. Embrace the unique corduroy check print and versatile design for a fashion-forward outfit that suits any occasion.