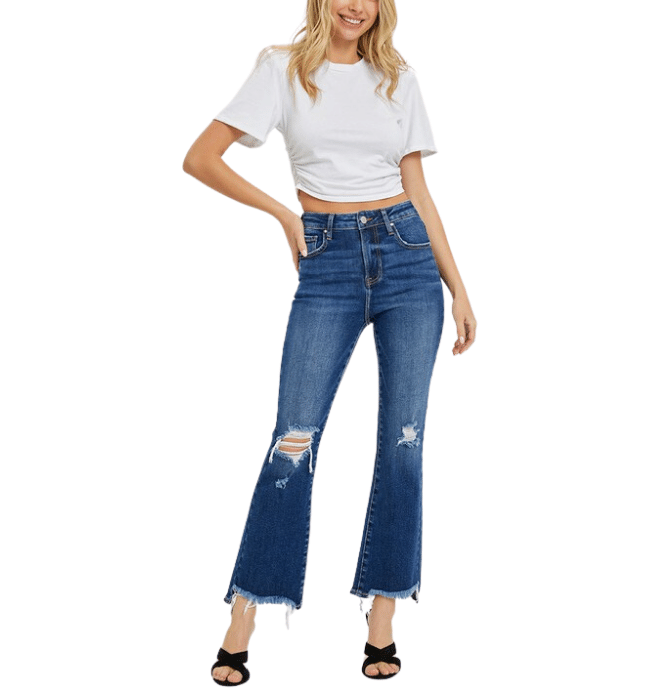 Johanna Distressed Cropped Flare Denim
Johanna Distressed Cropped Flare Denim, a stylish and contemporary addition to your wardrobe that effortlessly combines comfort, edge, and trendsetting style. Crafted with precision and attention to detail, these jeans are a must-have for fashion-forward individuals.
Key Features:
High Rise Crop Flare Design: These jeans boast a high-rise waist that adds a touch of sophistication while providing excellent coverage. The cropped flare leg design offers a chic and modern twist to traditional denim, making these jeans a statement piece in their own right.
Raw Hem Detail: The raw hem adds a hint of edge to your look. It's a stylish detail that sets these jeans apart, giving them a unique and fashionable flair.
Distressed Knees: The distressed knees create a worn-in, vintage vibe that adds character to your ensemble. It's the perfect blend of style and attitude, adding a touch of urban chic to your outfit.
Medium Wash: The medium wash finish is a classic choice that pairs beautifully with a range of tops, allowing you to create versatile and stylish outfits for various occasions.
Ideal Measurements: With a 10.5" rise and a 27" inseam (in size 3), these jeans are designed to flatter your figure and provide a comfortable fit.
Quality Fabric Blend: Made from a blend of 74% cotton, 24% polyester, and 2% spandex, these jeans offer the perfect combination of comfort, durability, and stretch. They'll keep you looking and feeling your best.
The Johanna Distressed Cropped Flare Denim is more than just a pair of jeans; they're a statement of your unique style and confidence. Whether you're dressing up for a night out or rocking a casual daytime look, these jeans have got you covered.
Elevate your fashion game and make a bold statement with the Johanna Distressed Cropped Flare Denim. Order yours today and step out with an edgy, stylish, and comfortable addition to your denim collection!