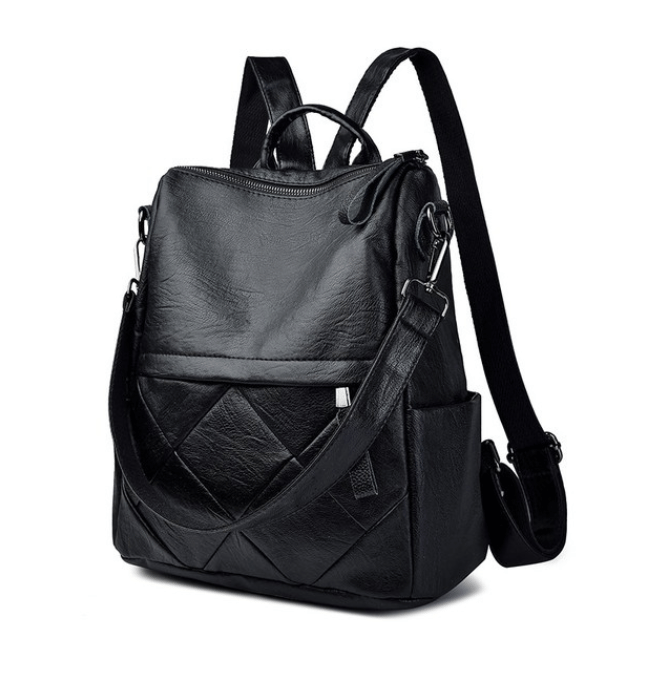 Raelynn Black Backpack
Introducing our versatile and sustainable creation, the Vegan Leather Convertible Bag! Designed to complement your dynamic lifestyle, this multifunctional bag seamlessly transforms from a chic shoulder bag to a stylish backpack, making it the perfect companion for any occasion.
Crafted from high-quality vegan leather, our bag is not only cruelty-free but also environmentally conscious. Embrace the elegance of leather without compromising your values – this cruelty-free alternative is a testament to our commitment to sustainable fashion.
Measuring at 12.2 inches in length, 6.3 inches in width, and 13 inches in height, this bag offers ample space to accommodate all your essentials. Whether you're heading to work, school, or exploring new destinations, you can carry your belongings with ease and convenience.
With a full zipper closure, your belongings stay secure, ensuring peace of mind during your daily adventures. The sturdy and reliable zipper ensures quick access to your items, making it the ideal choice for busy individuals on the go.
Wear it as a sleek shoulder bag during your business meetings, effortlessly exuding professionalism and style. When you're ready to embrace your adventurous side, convert it into a comfortable and trendy backpack, distributing the weight evenly to reduce strain on your shoulders.
Versatility meets sustainability – our Vegan Leather Convertible Bag is a testament to modern fashion that cares for the planet and its inhabitants. Upgrade your accessory collection with this eco-friendly gem and experience the epitome of fashion with a conscience. Embrace fashion, functionality, and ethics – all in one product!