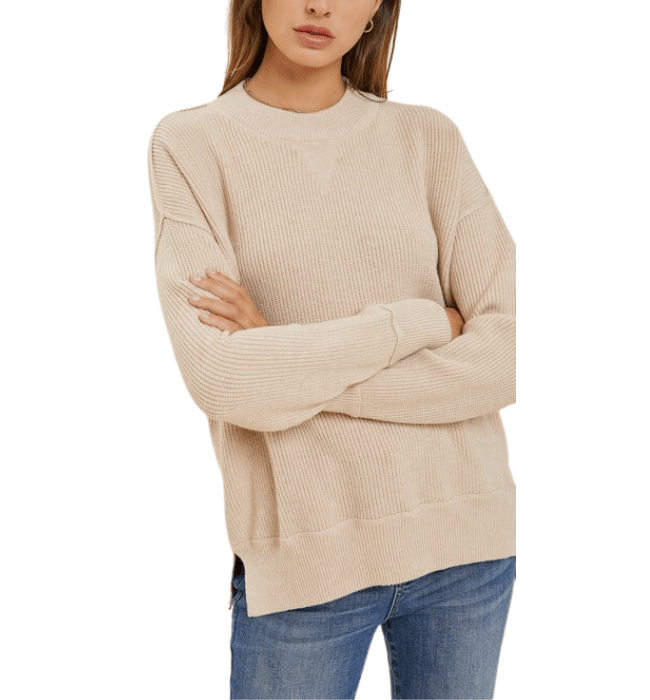 Kaylina Sweater
Introducing the Kaylina Sweater – a perfect harmony of comfort and style that effortlessly enhances your wardrobe. This sweater is thoughtfully designed with a combination of modern details and timeless elegance, creating a versatile piece that's perfect for various occasions.

Features:
1. Chic Rib Cuff and Hem: The "Kaylina" Sweater is adorned with ribbed cuffs and hem that add a touch of classic charm while ensuring a snug fit. These details provide a polished appearance that complements the overall design.
2. Subtle V Detail: The sweater features a subtle V detail at the neckline, adding a hint of sophistication and visual interest that draws attention to your collarbone and face.
3. Soft Fabric Comfort: Crafted from a luxurious blend of 50% viscose, 30% polyester, and 20% nylon, this sweater offers a soft and cozy feel against your skin. The fabric composition ensures both comfort and durability.
4. Stylish Side Slits: The side slits add a contemporary flair to the sweater, allowing for movement and creating an elongating effect that's both flattering and stylish.
Versatile Elegance:
Whether you're heading to the office, meeting friends, or simply enjoying a leisurely day, the "Kaylina" Sweater effortlessly adapts to your lifestyle.
Experience the comfort and style that the "Kaylina" Sweater brings to your wardrobe. With its rib cuff and hem, V detail, soft fabric, and side slits, you'll find yourself reaching for this sweater time and time again. Embrace the fusion of modern elegance and cozy comfort, allowing you to create chic and sophisticated outfits that showcase your personal fashion flair. Whether you're pairing it with jeans or dressing it up with tailored pants, this sweater ensures both comfort and lasting quality, making it a cherished addition to your collection.