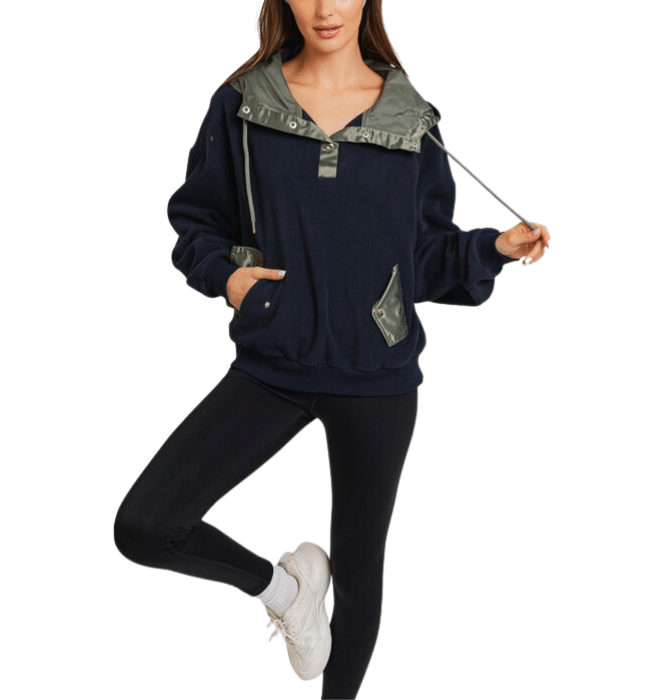 Kelly Half Button Fleece Hoodie
Kelly Half Button Fleece Hoodie – a cozy and stylish addition to your wardrobe designed to keep you warm and fashionable throughout the colder seasons. This hoodie combines comfort with a touch of urban flair, featuring a unique nylon trim and practical front pockets. Here's why it's a must-have:
Warm and Cozy: Crafted from 100% polyester fleece, the Kelly Half Button Fleece Hoodie is designed for maximum warmth and comfort. It's perfect for keeping you snug on chilly days.
Contrast Nylon Trim: The contrast nylon trim along the front and hood of the hoodie adds a modern and sporty twist to the classic fleece design. It's a stylish detail that sets this hoodie apart.
Front Pockets: With practical front pockets, this hoodie is not only fashionable but also functional. It provides a convenient place to keep your hands warm or store small essentials when you're on the go.
Half Button Closure: The half-button closure at the front adds versatility to the hoodie's style. You can wear it fully buttoned up for extra warmth or partially open for a more relaxed look.
Long Sleeve: The long sleeves ensure you stay cozy from wrist to neck, making it perfect for outdoor activities or simply lounging at home.
Easy Care: Made from 100% polyester, this hoodie is easy to maintain and clean, ensuring that you can enjoy its warmth and style with minimal effort.
The Kelly Half Button Fleece Hoodie is the ideal choice for those who appreciate the perfect blend of comfort and fashion. Whether you're heading out for a walk in the park or running errands in town, this hoodie has you covered. Its contrast nylon trim and practical features make it a standout piece in your winter wardrobe. Embrace warmth and style with this fleece hoodie and stay cozy all season long.