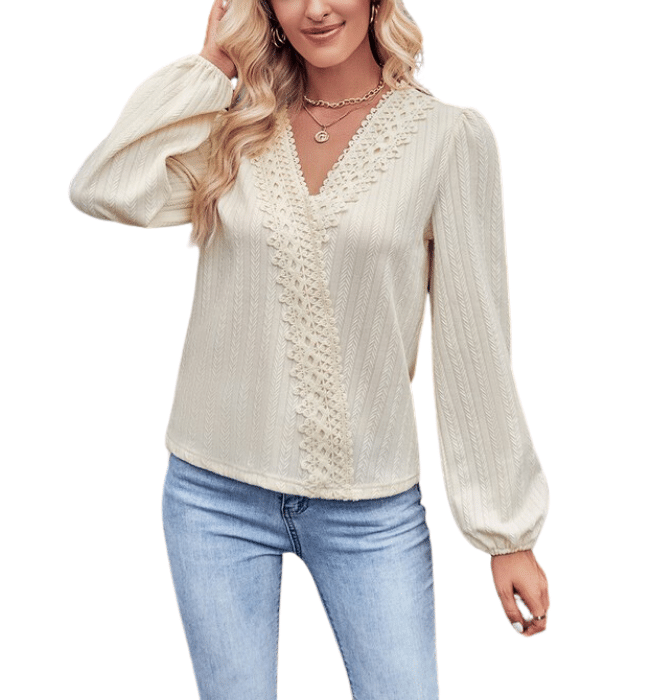 Kristen Lace Trim Top
Introducing the Kristen Lace Trim Top - Embrace Effortless Elegance!
Experience the allure of chic and sophisticated fashion with our Kristen Lace Trim Top, a timeless and versatile piece that exudes grace and charm. This blouse is crafted from a lightweight and luxurious blend of 97% polyester and 3% spandex, offering a soft and comfortable feel with a hint of stretch for the perfect fit.
The Kristen Top features a surplice neck design, adding a touch of allure and modernity to your ensemble. The surplice neckline creates a flattering V-shaped front that complements all body types and adds an element of sophistication to your look.
The standout feature of this blouse is the delicate lace trim, which provides a captivating and feminine touch. The lace detailing adds a touch of romance and elevates the overall design, making this top a perfect choice for special occasions or a night out.
Designed with a loose fit, the Kristen Lace Trim Top ensures a relaxed and comfortable silhouette that allows you to move with ease and confidence. Whether you're dressing up for a formal event or keeping it casual for a day out, this top is a statement piece that will effortlessly elevate your style.
Key Features of the Kristen Lace Trim Top:
Alluring Surplice Neck: Adds sophistication and allure to your outfit.
Delicate Lace Trim: Provides a captivating and romantic touch.
Lightweight and Luxurious Fabric: Ensures a soft and comfortable feel with a hint of stretch.
Versatile Loose Fit: Offers a relaxed and flattering silhouette.
Timeless Elegance: Suitable for various occasions and outfit pairings.
Step into a world of effortless elegance with the Kristen Lace Trim Top. Redefine chic and sophistication with this captivating and versatile piece.
Make a statement wherever you go - order your Kristen Lace Trim Top today and embrace timeless elegance with every step you take!