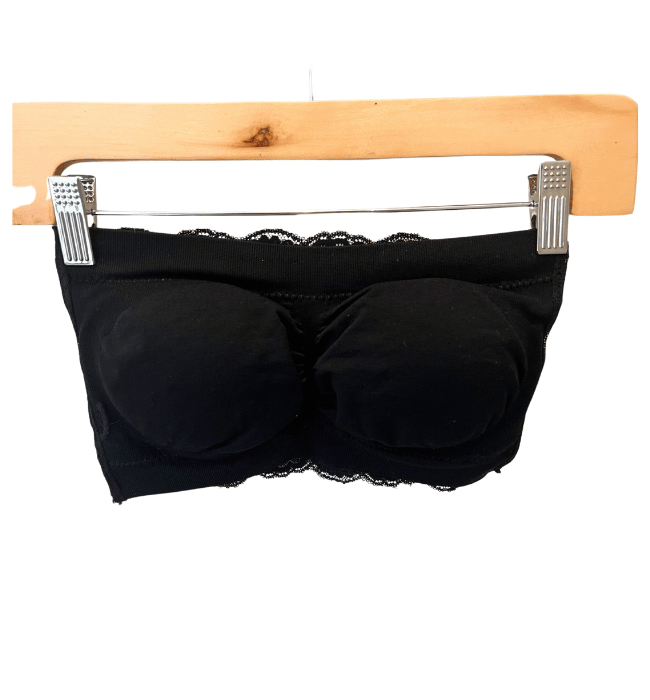 Lacey Back Bandeau Bra
The Soft and Stretchy Seamless Bandeau Top you described is designed to provide comfort and versatility. It is made from a blend of 88% Nylon and 12% Spandex, which gives it a soft and stretchy feel while offering durability and flexibility.
This bandeau top features removable padding, allowing you to customize the level of comfort and support you desire. The removable padding can be easily inserted or taken out according to your preference.
The middle of the bandeau top is cinched, adding a stylish detail that enhances the overall look and provides a flattering fit. This cinched design helps to create a more defined shape and adds visual interest to the top.
The back of the bandeau top is adorned with beautiful lace, which gives it a unique and feminine touch. The lace detail adds a touch of elegance and makes it suitable for wearing with backless clothing, as it provides an attractive and eye-catching element when visible.
In terms of sizing, the bandeau top is available in the following sizes: 32B, 34B, 34C, 36B, and 36C. These sizes are based on standard bra sizing and can help you find the best fit for your bust.
Overall, the Soft and Stretchy Seamless Bandeau Top with removable padding, cinched middle, and lace back offers both comfort and style. It is a versatile piece that can be worn with various outfits, particularly those featuring backless clothing, where the lace back detail can truly shine.