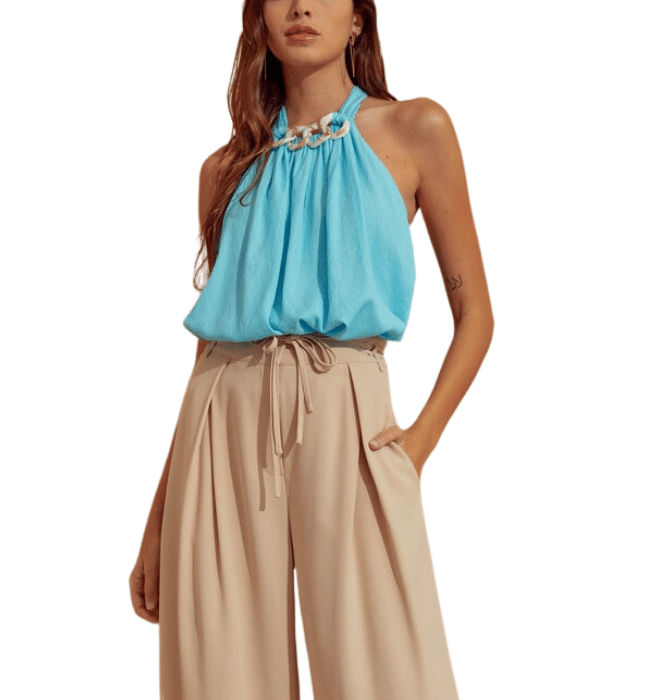 Laguna Chain Halter Top
The Laguna Chain Halter Top, a stunning and fashionable piece that will elevate your summer wardrobe. This halter top features a beautiful aqua color and unique marbled resin chain detail for a chic and eye-catching look.

Designed with a flowy fit, the Laguna Chain Halter Top offers both comfort and style. The relaxed silhouette drapes effortlessly on the body, providing a breezy and relaxed feel that is perfect for warmer days.

The marbled resin chain detail adds a touch of elegance and sophistication to the overall design. It creates a stylish focal point, drawing attention to the neckline and adding a fashionable element to the top.

The keyhole back closure with double buttons adds a playful and trendy touch. It not only adds visual interest but also allows for easy and convenient wearing. 

Crafted from a blend of 55% rayon and 45% polyester, the Laguna Chain Halter Top offers a soft and lightweight feel. The fabric blend ensures comfort and breathability, making it a perfect choice for the summer season.

Whether you're heading to the beach, a rooftop party, or a night out, the Laguna Chain Halter Top is a versatile and stylish option. Pair it with high-waisted jeans, shorts, or a skirt for a trendy and effortlessly chic ensemble.

Upgrade your summer wardrobe with the Laguna Chain Halter Top and embrace a combination of comfort, style, and fashion-forward design. Stand out from the crowd and make a statement with this unique and elegant piece.