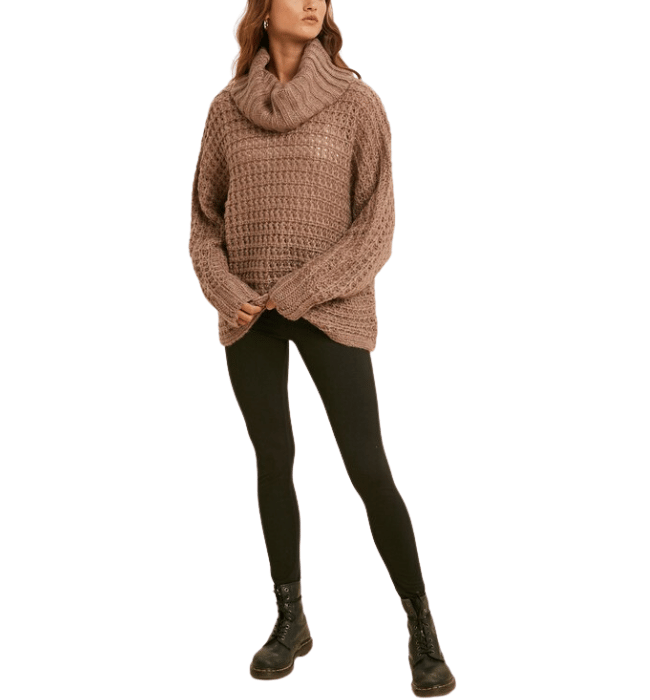 Lois Oversized Turtleneck Sweater
Lois Oversized Turtleneck Sweater - the epitome of cozy, chic, and effortlessly stylish comfort.
This wide gauge, thick knitted turtleneck sweater is designed for those who seek warmth and fashion rolled into one. Crafted with meticulous attention to detail, it features a boisterous, oversized design that exudes a relaxed, laid-back vibe. The turtleneck provides a cozy sanctuary, perfect for those colder days.
With a perforated-like texture, this sweater adds a touch of uniqueness to your outfit, making it more than just an ordinary sweater. The texture adds depth and character to the piece, setting it apart from the rest.
Made from 100% acrylic, this sweater combines the best of both worlds – softness and durability. It promises to keep you warm while maintaining its quality wear after wear.
The Lois Oversized Turtleneck Sweater is a versatile piece that transitions effortlessly from casual days to more refined occasions. Pair it with leggings for a relaxed, off-duty look or dress it up with your favorite jeans and boots. Its oversized fit means it's perfect for layering over a variety of outfits.
Rediscover comfort, style, and confidence with this turtleneck sweater that combines fashion and warmth seamlessly. Add the Lois Oversized Turtleneck Sweater to your cart today and redefine your fashion game with flair. Don't miss out on this cozy and trendy addition to your wardrobe.