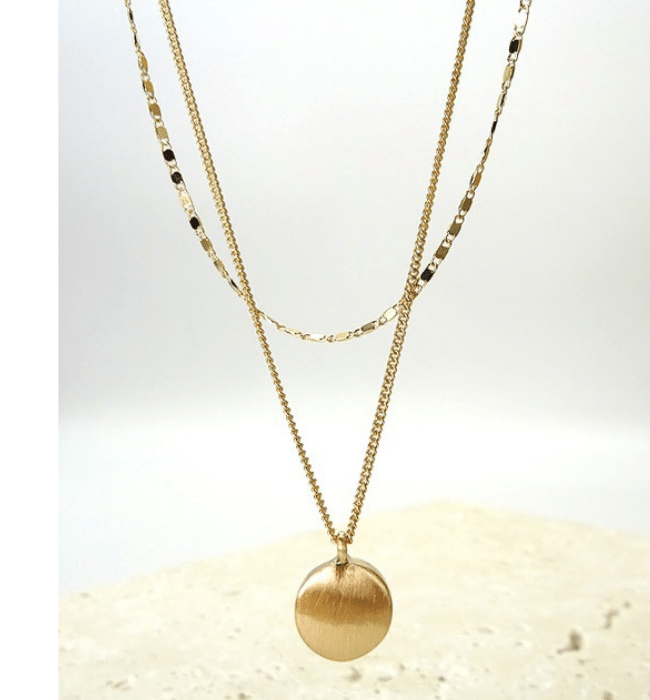 Mia Layered Coin Necklace
Mia Layered Coin Necklace, a stunning addition to your jewelry collection. This high-polish necklace set combines elegance and style, featuring a Cuban link chain and a captivating metal disc pendant. With its impeccable design and versatile length, this necklace is bound to become your go-to accessory for any occasion.

Crafted with meticulous attention to detail, the Mia Layered Coin Necklace boasts a flawless high-polish finish that adds a touch of sophistication to any outfit. The Cuban link chain not only adds a trendy element but also ensures durability, allowing you to enjoy this piece for years to come.

At the center of attention lies the metal disc pendant, exuding charm and uniqueness. Its distinctive design and intricate patterns make it a standout feature of the necklace. Connected seamlessly with a single lobster clasp closure, the pendant hangs effortlessly, creating a layered effect that adds dimension and visual interest to your neckline.

The adjustable length of the necklace, ranging from 12 inches to 15 inches, allows for customization and ensures a perfect fit for every individual. Whether you prefer a shorter, more delicate look or a slightly longer style, the Mia Layered Coin Necklace accommodates your personal preference with ease.

This versatile necklace effortlessly transitions from day to night, making it suitable for various occasions. Pair it with a casual daytime ensemble to elevate your everyday style or wear it with an elegant evening dress for a touch of glamour. Its timeless design ensures that it complements a range of outfits and remains a staple in your jewelry collection for years to come.

Indulge in the beauty and versatility of the Mia Layered Coin Necklace and let it become your new favorite accessory. Elevate your style, exude confidence, and make a statement with this captivating piece.