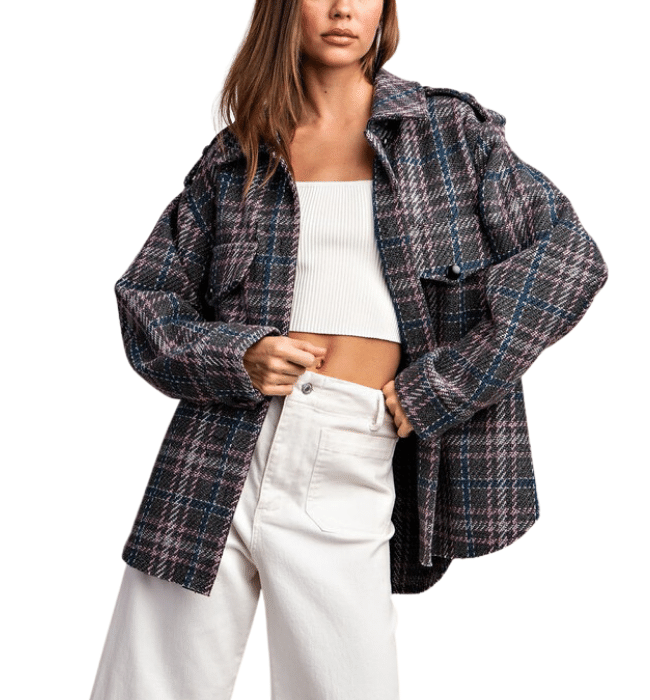 Mitsy Oversized Plaid Shacket
Mitsy Oversized Plaid Shacket - Your New Fashion Essential!
Elevate your style game with our Mitsy Oversized Plaid Shacket, a versatile addition to your wardrobe that seamlessly combines the comfort of a shirt with the warmth of a jacket. Crafted with care and a keen eye for fashion, this multicolored plaid printed shacket is designed to keep you stylish and cozy throughout the year.
Key Features:
Chic Multicolored Plaid: The timeless charm of plaid gets a modern twist with a multicolored pattern that adds a playful touch to your outfit. Whether you're heading out for a casual brunch or a weekend getaway, this shacket is the perfect choice.

Button Down Front: Effortlessly switch from a shirt to a jacket with the easy-to-use button-down front. Create a variety of looks by leaving it open for a relaxed vibe or buttoning it up for a more structured appearance.

Collared Neckline: The classic collared neckline offers a touch of sophistication, making it suitable for both casual and semi-formal occasions. Pop the collar for added flair or fold it down for a more traditional look.

Rounded Bottom Hem: The rounded hemline adds a unique twist to this shacket, giving it a contemporary edge. It's a stylish detail that sets this piece apart from the rest.

Front Chest Pockets: Practicality meets style with two front chest pockets, perfect for keeping your essentials close at hand or adding an extra layer of detail to your outfit.

Buttoned Epaulettes: Epaulettes are the perfect finishing touch that gives this shacket a subtle military-inspired vibe, adding a touch of edge to your ensemble.

Thicker Material: Made from 100% polyester, this shacket is designed to keep you warm and comfortable on cooler days. It's a perfect layering piece, allowing you to transition from the chilly outdoors to a cozy indoor setting effortlessly.
The Mitsy Oversized Plaid Shacket is not just a fashion statement; it's a versatile piece that offers endless styling possibilities. Pair it with your favorite jeans, leggings, or a skirt for a trendy look that suits your unique style.