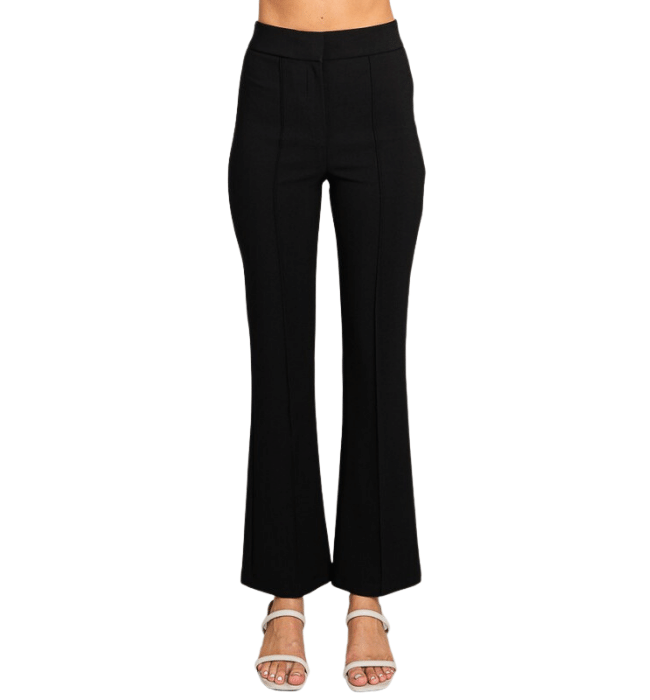 Onyx Pintuck Stitch Flared Pants
Introducing the Onyx Pintuck Stitch Flared Pants, a versatile addition to your fashion collection that seamlessly combines style, comfort, and stretchability. Crafted with precision and attention to detail, these pants are a must-have for anyone looking to make a bold fashion statement.
Key Features:
Stretchy Twill Fabric: The twill fabric used for these pants is exceptionally stretchy, providing an all-day comfort and ease of movement. Whether you're heading to the office, a dinner date, or a special event, these pants are designed to keep you comfortable and stylish.
Hidden Button and Hook & Eye Fly: The discreetly placed button and hook & eye fly ensures a sleek, streamlined look while offering secure closure. No bulky zippers or buttons to interrupt the smooth lines of these pants.
Pintuck Stitch Detail: The pintuck stitch adds a touch of elegance and sophistication to the design, creating vertical lines that elongate your legs and provide a polished look.
Flared Leg: The flared leg design offers a contemporary twist to the classic trouser style. It's perfect for pairing with heels, adding a touch of flair to your outfit.
Fake Back Welt Pockets: These pants feature faux back welt pockets for a clean, minimalist appearance, allowing you to maintain a sleek profile while still enjoying the convenience of pocket styling.
Solid Black Color: The classic black color is a timeless choice that easily pairs with a variety of tops and accessories, making these pants incredibly versatile for all your fashion needs.
Quality Fabric Blend: Made from a blend of 92% polyester and 8% spandex, these pants offer the perfect combination of durability and comfort. They retain their shape and provide a luxurious feel against your skin.
The Onyx Pintuck Stitch Flared Pants are more than just a pair of trousers; they're a statement piece that exudes confidence and style. Perfect for both casual and formal occasions, these pants offer a versatile and elegant addition to your wardrobe.
Elevate your fashion game and make a bold statement with the Onyx Pintuck Stitch Flared Pants. Order yours today and experience the perfect blend of comfort and style in one stylish package!