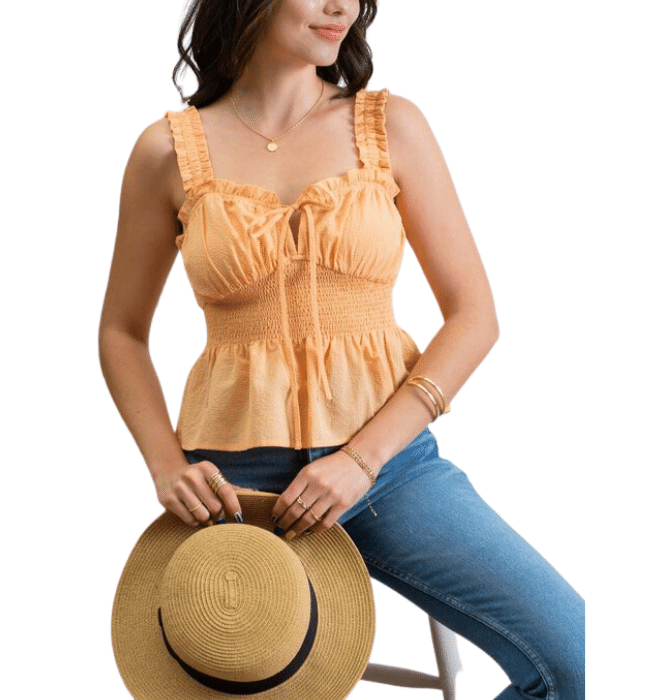 Panama Ruffle Smocked Waist Tank
Panama Ruffle Smocked Waist Tank, a stylish and feminine piece that effortlessly combines modern design with a touch of romantic flair. This tank top is perfect for adding a playful and chic element to your summer wardrobe.

Featuring a square neckline, this tank top offers a trendy and flattering look that suits various body shapes. The square shape adds a contemporary twist to the classic neckline, creating a unique and eye-catching silhouette.

The sleeveless design allows for unrestricted movement and keeps you cool during those warm summer days. The absence of sleeves also adds a sleek and streamlined look, perfect for layering or wearing on its own.

The front keyhole tie adds a charming and flirty touch to the tank top. It creates a small opening at the front, allowing you to adjust the fit to your liking and add a touch of personal style. The tie detail enhances the overall femininity of the top and adds visual interest.

The smocked waist is a standout feature of this tank top, creating a fitted and defined shape that flatters your figure. The smocking adds texture and a touch of whimsy, while also ensuring a comfortable and flexible fit. It cinches in at the waist, accentuating your curves and creating an hourglass silhouette.

With delicate spaghetti straps, this tank top offers a dainty and feminine aesthetic. The straps are adjustable, allowing you to customize the fit and ensure optimal comfort and support.

Crafted from 100% polyester, the textured fabric of this tank top adds dimension and visual interest to your outfit. It is lightweight, breathable, and easy to care for, making it a practical choice for your summer wardrobe.

Experience the playful and chic style of the Panama Ruffle Smocked Waist Tank. Whether you're pairing it with high-waisted shorts for a casual day out or dressing it up with a skirt and heels for a night on the town, this tank top is designed to make a statement. Embrace the effortless charm and undeniable style that this top brings to your ensemble.