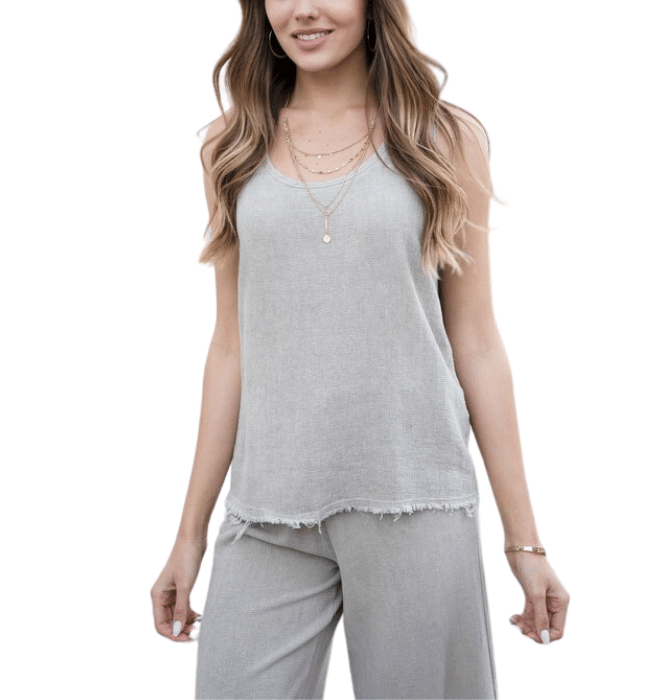 Ryann Rugged Hem Tank
Introducing the Ryann Rugged Hem Tank, a versatile and stylish addition to your wardrobe. Crafted from a blend of 80% cotton and 20% linen, this tank top offers the perfect combination of comfort and breathability, making it an ideal choice for any season.

Designed with a rugged hem, this tank top brings a touch of edgy sophistication to your outfit. The uneven hemline adds a unique and modern twist to a classic silhouette, making it stand out from the crowd. Whether you're dressing it up or keeping it casual, this tank top effortlessly elevates your style.

The cotton linen gauze fabric gives this tank top a lightweight and airy feel, ensuring you stay cool and comfortable throughout the day. The natural fibers of cotton and linen are known for their durability, allowing this tank top to withstand regular wear and maintain its quality for seasons to come.

Versatility is key with the Ryann Rugged Hem Tank. Pair it with your favorite jeans or shorts for a laid-back, everyday look. Dress it up with a skirt and heels for a chic and sophisticated ensemble. Layer it under a cardigan or blazer for a polished office outfit. The possibilities are endless, and this tank top effortlessly adapts to any occasion.

Available in a range of timeless colors, the Ryann Rugged Hem Tank offers options to suit your personal style. Choose from classic neutrals or opt for a bold pop of color to make a statement. Whatever your preference, this tank top is sure to become a staple in your wardrobe.

With its comfortable fabric, trendy rugged hem, and versatile design, the Ryann Rugged Hem Tank is a must-have for every fashion-forward woman. Embrace effortless style and make a statement with this exceptional piece. Upgrade your wardrobe today and experience the perfect blend of comfort and fashion with the Ryann Rugged Hem Tank.