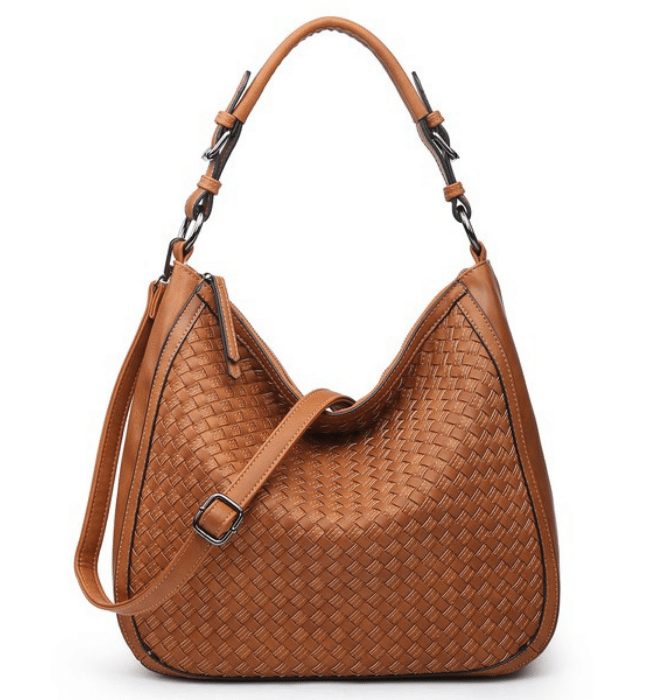 Saratoga Woven Hobo Bag
Saratoga Woven Hobo Bag, a spacious and sophisticated shoulder bag that exudes both elegance and ethics. This bag is meticulously crafted to be a versatile and sustainable addition to your wardrobe. Let's explore the exquisite features that set this bag apart.
Luxurious Vegan Leather Crafted from advanced vegan leather, the Saratoga Woven Hobo Bag offers the look and feel of genuine leather while adhering to ethical values. It's a testament to our commitment to cruelty-free fashion, and the quality of the material ensures it will stand the test of time.
Handmade Woven Pattern Each bag is a unique work of art, as it's 100% handmade with a stunning woven pattern that's both visually captivating and tactilely pleasing. The intricate weaving and stitching detail showcase the craftsmanship that goes into creating this masterpiece.
Spacious and Functional With dimensions measuring 11.5 inches in width, 5.5 inches in depth, and 17.5 inches in height, this bag offers ample space to carry your essentials with ease. Whether you're heading to work, a social gathering, or a weekend getaway, the Saratoga Woven Hobo Bag has you covered.
Adjustable and Detachable Strap The bag comes with a long, adjustable, and detachable strap, offering you multiple ways to carry it. Adjust the strap to your preferred length, or remove it entirely to carry the bag as a stylish hobo with the handle.
The Saratoga Woven Hobo Bag is not just a fashion statement; it's a reflection of your commitment to ethical living and impeccable style. Add this exceptional piece to your collection and experience the perfect blend of fashion, function, and sustainability.