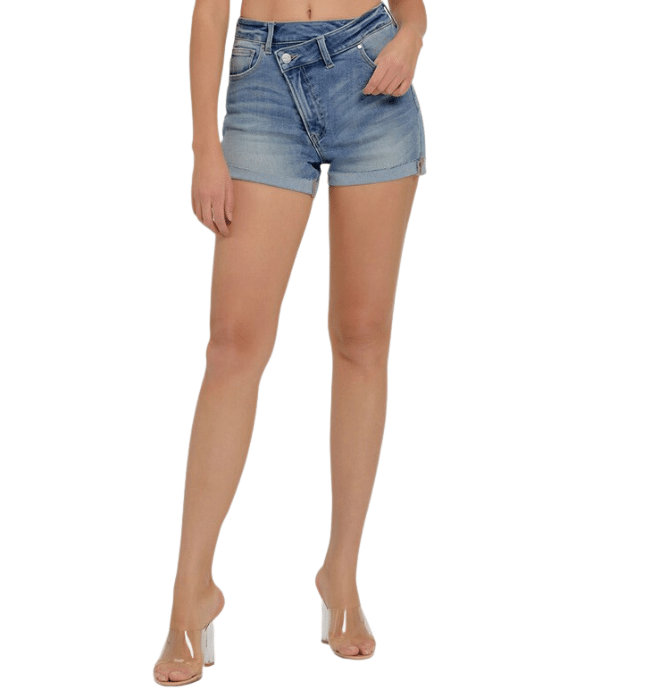 Summer Cuffed Crossover Denim Shorts
Introducing the Summer Cuffed Crossover Denim Shorts, a stylish and comfortable addition to your summer wardrobe. These high rise shorts feature a unique crossover design in a medium wash that exudes casual and laid-back vibes.

The Summer Cuffed Crossover Shorts are designed with a flattering 11" rise, hitting just above the hips for a comfortable and trendy fit. The inseam measures 3" in size small, offering the perfect length to show off your legs without feeling overly revealing.

Made with a high-quality blend of 80% cotton, 18% polyester, and 2% spandex, these shorts offer a soft and stretchy feel for all-day comfort. The fabric provides the right amount of flexibility and durability, allowing you to move freely and confidently.

Please note that the cuffed hem of these shorts is fixed and cannot be uncuffed. The cuffed detail adds a touch of casual charm to the overall design, creating a relaxed and effortless look.

The medium wash of these shorts adds a classic and versatile appeal, making them easy to pair with various tops and accessories. Whether you prefer a casual t-shirt, a flowy blouse, or a cropped tank, these shorts will effortlessly complement your style.

Ideal for summer outings, beach days, or casual strolls, the Summer Cuffed Crossover Denim Shorts are a go-to option for staying comfortable and stylish. Dress them up with wedges or dress them down with sandals, and you're ready to embrace the carefree spirit of the season.