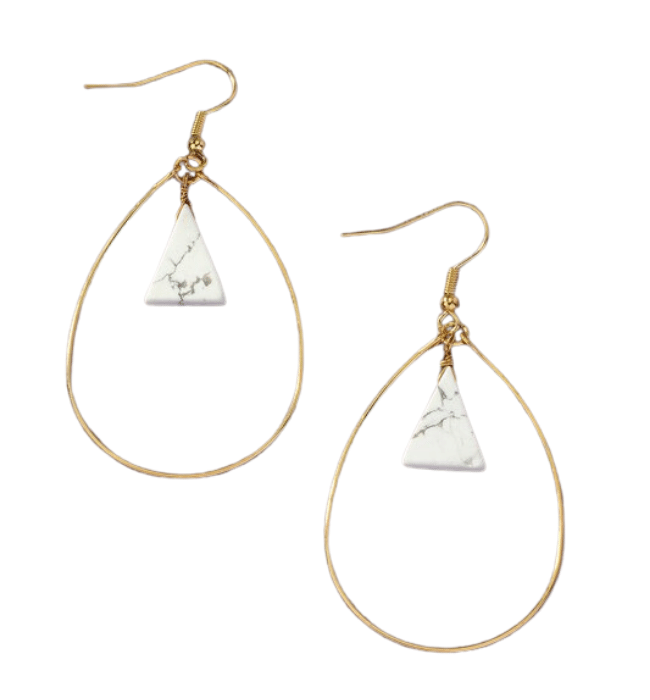 Teardrop Wire Hoop Earrings
Elevate your style to new heights with our Teardrop Wire Hoop Earrings, featuring captivating triangle-shaped natural stones. These exquisite 2.50-inch hoops are a harmonious blend of modern design and the timeless beauty of earth's elements.
Product Highlights:
Stone Type: Natural Gemstones
Material: High-quality and durable metal
Earring Size: 2.50 inches
Closure: Secure latch-back design
Handcrafted with precision and care
Our Teardrop Wire Hoop Earrings with triangle natural stones are a stunning expression of nature's artistry. Each natural gemstone, carefully selected for its unique beauty and character, adds a touch of the extraordinary to your look.
Crafted from high-quality and durable metal, these earrings are built to withstand the test of time, ensuring that you can enjoy their beauty for years to come. The 2.50-inch size is perfect for those who want to make a statement and capture attention with their style.
The secure latch-back design provides peace of mind, keeping your earrings in place throughout your day. The teardrop shape and the triangle natural stones create an intriguing combination that's both eye-catching and sophisticated.
Whether you're adding a touch of elegance to a formal outfit or seeking to make a bold fashion statement, our Teardrop Wire Hoop Earrings with triangle natural stones are the perfect choice. These earrings also make an exceptional gift for those who appreciate the enchanting beauty of natural gemstones.
Unleash your inner adventurer and embrace the allure of natural stones with these remarkable hoop earrings. Make a statement that reflects your unique style and connection to the earth. Order your pair today and experience the captivating beauty of natural gemstones in a stunning teardrop design.