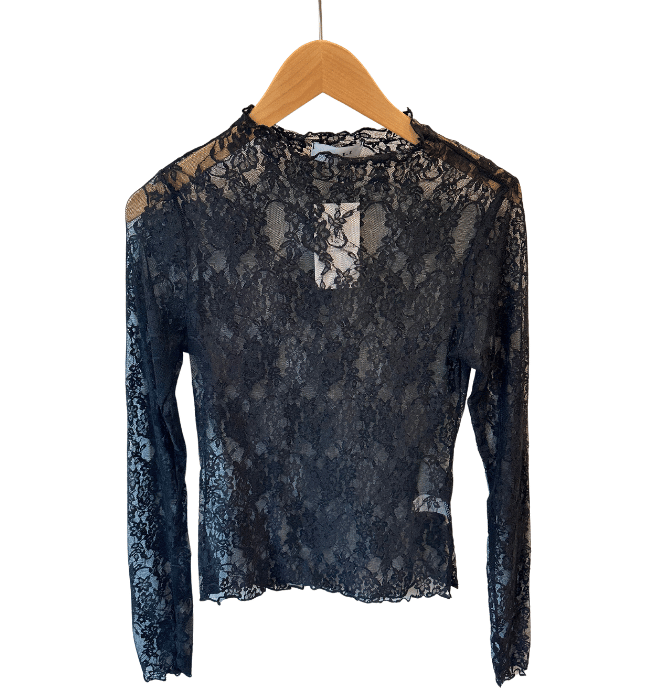 Tessa Black Lace Mesh Top
Tessa Black Lace Mesh Top - a bewitching blend of sensuality and sophistication. This long-sleeve black mesh top is designed to make you feel effortlessly elegant, whether it's for a romantic date night or as a chic layering piece.
Sultry Elegance: The Tessa Lace Mesh Top exudes sultry elegance with its alluring mock neck and intricate floral lace design. The scalloped edges add a touch of femininity and sophistication, making it a statement piece for your wardrobe.
Versatile Styling: Whether you're planning a special evening out or simply want to elevate your everyday style, this top is a versatile choice that can effortlessly transition from day to night.
Floral Lace Design: The delicate floral lace design adds a touch of romance and charm to your ensemble, making you feel both alluring and graceful.
Comfortable Fit: Crafted from a blend of 92% nylon and 8% spandex, our top offers a comfortable and flattering fit. It hugs your curves in all the right places while providing stretch and ease of movement.
Perfect Layering Piece: The Tessa Black Lace Mesh Top also serves as a chic layering piece. Wear it under a blazer, a cardigan, or a slip dress to create a unique and fashionable look.
Quality Craftsmanship: Our top is meticulously crafted to ensure a high-quality finish and longevity, ensuring you look and feel your best every time you wear it.
Elevate your wardrobe with the Tessa Black Lace Mesh Top - a statement piece that seamlessly combines sensuality and sophistication. Experience the perfect blend of romance and elegance by adding this unique top to your collection today. Make a lasting impression and embrace your allure with confidence.