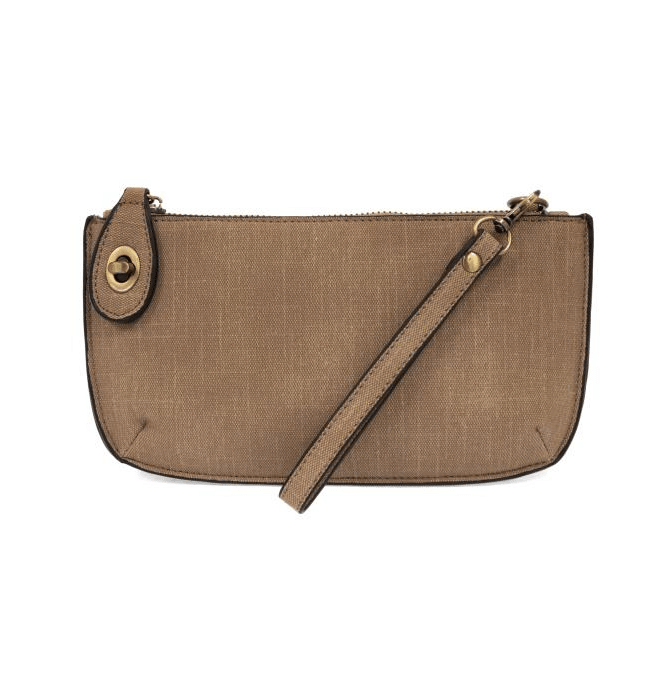 Textured Crossbody Wristlet Clutch
Textured Crossbody Wristlet Clutch - a stylish and versatile accessory that combines fashion and functionality, designed to meet your every need.
The Faux Linen Crossbody Wristlet Clutch from Joy Susan is a compact carry-all that's perfect for the modern woman on the go. Crafted from vegan leather, this clutch offers a sophisticated look while staying ethically conscious. It's your all-in-one solution, serving as both a stylish wallet and a functional crossbody bag.
Measuring 5 inches in height, 9.5 inches in width, and 1 inch in depth, this clutch strikes the perfect balance between compactness and ample space. The removable and adjustable crossbody strap, ranging from 13 to 24 inches, ensures a comfortable and customizable fit. Additionally, the 7-inch wristlet strap adds an element of versatility.
The interior is designed with a zippered pocket and six card slots, offering efficient organization for your essentials. The printed lining adds a delightful touch, and the brass-plated hardware complements the clutch's timeless design.
With 10 color options available, you can easily find one to match any outfit or season. Whether you're heading out for a quick errand, a night on the town, or simply need a stylish wallet to complement your handbag, the Textured Crossbody Wristlet Clutch is the perfect choice.
Elevate your style and stay organized with this versatile and chic clutch. Order your Textured Crossbody Wristlet Clutch today and redefine your fashion game with confidence. Don't miss out on the opportunity to make this fashionable and practical accessory your own.