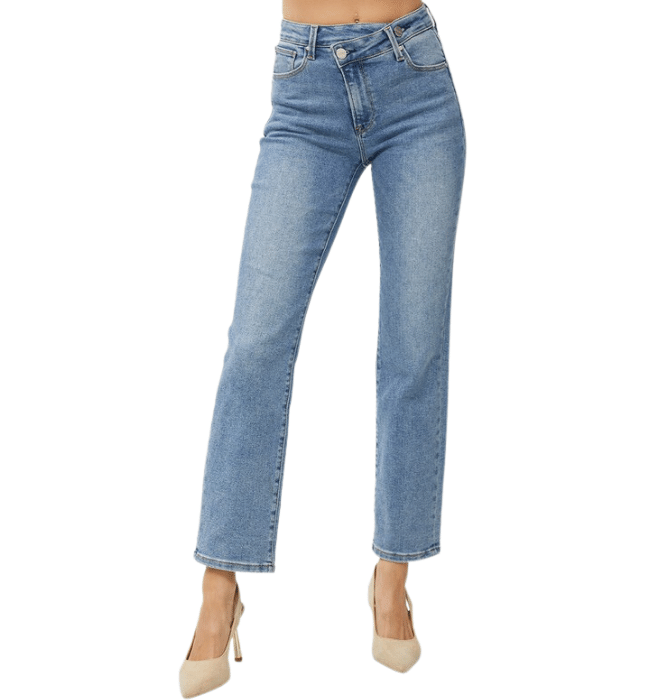 The Everyday Jeans

Introducing our High Rise Crossover Straight Jeans – the epitome of style and comfort. These jeans are designed to elevate your wardrobe with a perfect blend of modern design and timeless appeal.

Fit and Measurements:

Rise: 10 inches
Inseam: 28 inches (size 3/26)
Model's Info:

Height: 5'9"
Waist: 24"
Hips: 35"
Fabric Contents:

65% Cotton
32% Polyester
1.5% Viscose
1.5% Spandex
Features:

High Rise: The 10-inch rise offers a flattering and comfortable fit that accentuates your curves while providing excellent support.

Crossover Design: Our jeans feature a unique crossover waistband detail that sets them apart from ordinary straight jeans. This innovative touch adds a trendy twist to a classic style, making these jeans perfect for any occasion.

Straight Leg: The straight leg cut ensures a timeless and versatile look. It's an ideal choice for both casual and more formal outfits, allowing you to dress them up or down with ease.

Premium Materials: Crafted from a high-quality blend of cotton, polyester, viscose, and spandex, these jeans are not only comfortable but also built to last. The added spandex ensures a slight stretch for mobility without compromising on shape retention.

Stylish and Versatile: These jeans can seamlessly transition from day to night, offering a contemporary edge while maintaining a classic silhouette. They pair well with sneakers for a laid-back look or with heels for a more polished appearance.

Elevate your denim game with our High Rise Crossover Straight Jeans, designed to cater to both your fashion needs and comfort desires. Whether you're going for a casual look or dressing up for a special occasion, these jeans are your go-to choice. Order yours today and experience the perfect blend of style, quality, and comfort.