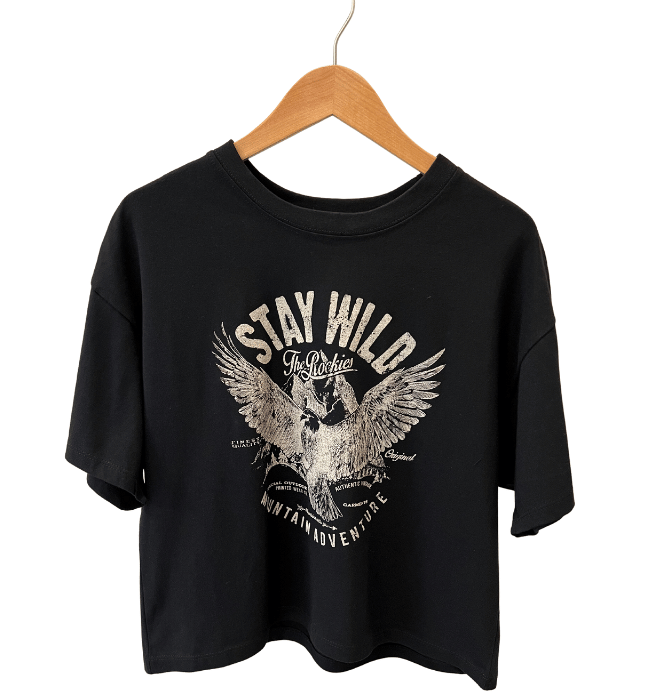 The Rockies Graphic T-Shirt
Elevate your casual wardrobe with The Rockies Graphic T-Shirt - a captivating blend of style and wilderness. This Rocky Mountain Stay Wild Graphic Tee is the ultimate expression of your adventurous spirit, designed to ignite your love for nature and exploration. Crafted from 100% cotton, this tee offers unmatched comfort and a soft touch against your skin.

The focal point of this tee is the striking cream graphic set against a timeless black background. The contrasting colors create a visually appealing design that captures the essence of the majestic Rocky Mountains. Whether you've visited the Rockies or dream of exploring their beauty, this graphic tee brings that wild and untamed energy into your everyday style.

Designed with both fashion and comfort in mind, this tee features a boxy and long cropped body length. The side-seamed construction ensures a flattering fit that complements all body types. The long crop top style adds a touch of modernity and versatility, making it perfect for pairing with high-waisted jeans, shorts, or skirts.

Key Features of The Rockies Graphic T-Shirt:

Adventure-inspired design: The Stay Wild Graphic celebrates the splendor of the Rocky Mountains, fueling your sense of wanderlust.
Premium cotton fabric: Crafted from 100% cotton for a soft and comfortable feel throughout the day.
Boxy & Long Crop Top: The trendy silhouette provides a stylish and flattering fit.
Timeless colors: The cream graphic on a classic black background adds an element of sophistication to your outfit.
Whether you're exploring the great outdoors or enjoying a day in the city, The Rockies Graphic T-Shirt is the perfect companion. Embrace your love for adventure and let your style reflect the untamed beauty of nature.

Capture the spirit of the Rockies and make a statement with this eye-catching graphic tee. Order yours today and embrace the wild charm of nature wherever you go!