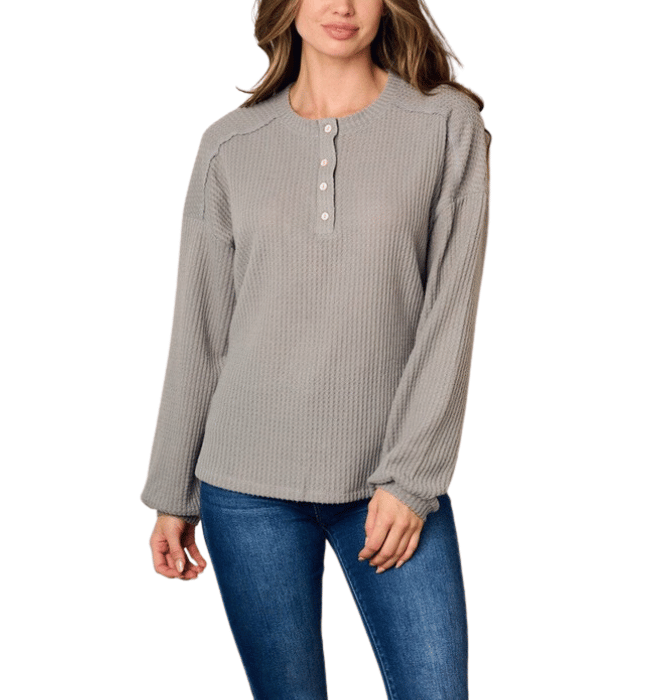 Theresa Waffle Knit Henley Top
Introducing the "Theresa" Waffle Knit Henley Top – a perfect blend of comfort and style, designed to elevate your casual wardrobe. This top seamlessly combines the charm of waffle knit texture with modern elements to create a versatile and fashionable piece.
Features:
1. Cozy Waffle Knit: The waffle knit texture of the "Theresa" top adds a layer of coziness and visual interest, making it a go-to choice for both comfort and style.
2. Henley Neckline: The henley neckline offers a subtle and sophisticated detail, creating a focal point that enhances the overall appeal of the top.
3. Puff Long Sleeves: The puff long sleeves add a touch of femininity and playfulness, bringing a trendy and fashionable element to the classic design.
4. Loose Fit: Designed with a loose fit, this top offers a relaxed and effortless look that's perfect for both lounging and casual outings.
Fabric Blend:
The top is crafted from a combination of 66% polyester and 34% cotton, providing a blend of durability and natural softness. Additionally, the cuffs are made from 96% polyester and 4% spandex, ensuring both comfort and a secure fit.
Sizing Information:
Available in various sizes, the "Theresa" top ensures a flattering fit that suits your body type.
Versatile Style:
Whether you're running errands, meeting friends, or simply enjoying a cozy day in, the "Theresa" Waffle Knit Henley Top offers a versatile style that effortlessly adapts to any occasion.
Quality and Comfort Combined:
This top combines the finest materials and attention to detail to deliver a product that not only looks great but also offers lasting comfort and durability.
Elevate your casual wardrobe with the "Theresa" Waffle Knit Henley Top. With its waffle knit texture, henley neckline, puff long sleeves, and loose fit, it's the ideal combination of style and comfort. Embrace the versatility and quality of this top, allowing you to create chic and relaxed outfits that showcase your personal fashion flair.